Last week I wrote about the main problems I see in the church today, and why Christians aren't making as much of an impact on the culture as we should be. I wanted to be sure we understand that's where the greatest blame lies. We must always examine ourselves before pointing fingers elsewhere.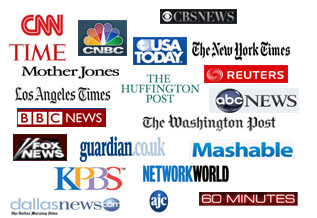 Sometimes we can be our own worst enemy, but there are other times when deliberate distortion of Biblical positions and those who espouse them takes center stage. Unfortunately, that is happening quite often now in the media, both the entertainment variety and the supposedly unbiased news media.
When 90% of those involved in the major networks and newspapers rarely go to church, let alone actually believe the Christian faith, what can one expect but bias? Those in our society who believe in nothing more than themselves or who have no clear belief system will be heavily influenced by the distorted presentation of Christians and Christian beliefs in the news. This has come into focus, in particular, on the "gay rights" issue where anyone who holds to Biblical morality is deemed hateful.

This approach carries over to all conservatism in America. Nearly every conservative stance is questioned in a way liberal positions never are—with the exception of Fox News—and it's a double treat for the media if the conservative who is being attacked is also an evangelical. The over-the-top bias during the last election cycle was worse than ever. Stories that should have been extremely significant were relegated to irrelevance if they could in any way be a detriment to Obama's reelection.
In fact, one might say, without too much critique even from the Left, that the media was pulling for an Obama victory:
Now, we can bemoan this unfair treatment and complain about the bias—which I am doing and will continue to do—but that can never be the last word. Christians—and conservatives overall, to the extent conservatism retains its Christian moorings—have to expect to be portrayed unfairly. We are bringing the light of God's truth to a sinful world; people steeped in their sinfulness don't like to be told they are wrong. Do we need this reminder directly from Jesus?
This is the judgment, that the Light has come into the world, and men loved the darkness rather than the Light, for their deeds were evil. For everyone who does evil hates the Light, and does not come to the Light for fear that his deeds will be exposed.
We also have this "promise" from the apostle Paul:
Indeed, all who desire to live godly in Christ Jesus will be persecuted. But evil men and impostors will proceed from bad to worse, deceiving and being deceived.
Some promises are not as welcome as others. Yet Paul didn't stop there. After informing his disciple Timothy what to expect, he proceeded to give him instructions on what he should do about this state of affairs:
You, however, continue in the things you have learned and become convinced of, knowing from whom you have learned them, and that from childhood you have known the sacred writings which are able to give you the wisdom that leads to salvation through faith which is in Christ Jesus. All Scripture is inspired by God and profitable for teaching, for reproof, for correction, for training in righteousness; so that the man of God may be adequate, equipped for every good work.
Paul didn't leave Timothy with a negative. He encouraged him to move forward with what he knew to be the truth, to keep teaching, reproving, correcting, and training his hearers. I plan to follow the same sage advice, and I hope my readers will be edified by my continuing efforts.