Biblical Principles and Civil Government
by Dr. K. Alan Snyder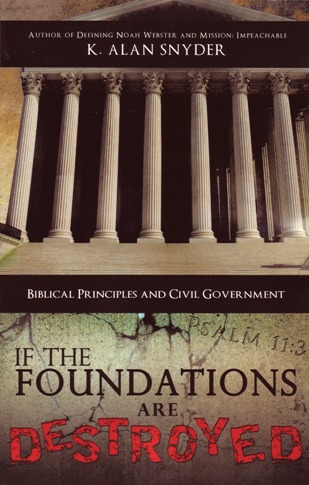 Our dangers are of two kinds, those which affect our religion, and those which affect our government…. Whenever the pillars of Christianity shall be overthrown, our present republican forms of government, and all the blessings which flow from them, must fall with them. —Rev. Jedidiah Morse, 1799
Was Rev. Morse right?
The author believes so, and explains the Biblical principles upon which American government was founded, and the demise of those principles. But he does more than point out the problems. He encourages the reinstatement of specific Biblical principles into American society and government.
Chapter Titles
God the Source
Individuality: The Cornerstone
Self-Government: Maturity & Liberty
Property: Stewardship and Accountability
Unity & Union: Voluntariness & Diversity
Christian Character: The Catalyst
Christian Form of Government: God Wants Kings?
Sowing and Reaping: The Bitter Harvest
---
Ordering Information:
ORDER ONLINE at Barnes and Noble
If the Foundations Are Destroyed
ISBN 978-1615799381
Xulon Press
Copyright © 2010 by K. Alan Snyder
Paperback, 260 pages
---
Comments from Christian Leaders
"I believe that it will be an important contribution to the growing body of scholarship demonstrating the importance of the church and Christianity to the founding of America."
Dr. Ralph Reed
Former Executive Director, Christian Coalition, Chesapeake, Virginia
"For over ten years I have been thinking that some knowledgeable history professor should write a to-the-point work regarding the BIBLICAL FOUNDATIONS upon which our country was founded. This book should be 'required' reading for every State and Federal legislator, governor and sitting judge in the land."
Richard L. Bender
President, Bible Research Corp, Arlington Heights, Illinois
"Dr. K. Alan Snyder has written a landmark book. The book is easy to read (Dr. Snyder does not write with Ph.D.'ese), but is comprehensive, thoroughly Biblical, and one of the most beneficial books I have ever read. Those of us who believe that a true spiritual revival is the only thing which will save our western civilization now have a new tool to use in that quest."
Rev. Dean Harvey,
Retired Pastor, Chapelwood Community Church, Rockford, Illinois
"Snyder brings the American founding into proper perspective.
"If the Foundations are Destroyed successfully encompasses the important religious aspects of the American Founding with the historical events of the time. So often, works analyzing America's roots neglect to include the role of religion, specifically Christianity, and its interdependence on Biblical precepts. A simple trace of our historical documents serves as evidence that Snyder's preface, that Christianity served as one of the building blocks of our nation, is not only true, but paramount if one is to fully understand how and more importantly, why, America was born. This book effectively intertwines Biblical foundations with historical theories and facts in an intelligent and most compelling manner."
Chris Connelly,
Chief of Staff for US Congresswoman, Jo Ann Davis (R-VA)
"This book is a must read!
"Dr. Snyder has accurately and concisely addressed the fundamental principles of government espoused by the founders of our nation. This easy to read text discusses how the Bible influenced the founding of America and its government and includes present day application of those governmental principles to current public policy issues! I recommend it to anyone who wants to know how beliefs influence government. This book will challenge and even change your perspective."
Reviewer:
Reader from Richmond, Virginia