President Trump has stirred the criticism pot with his military actions: striking an air base in Syria and using the largest bomb in the US arsenal to destroy terrorists' caves in Afghanistan. It has led some to question exactly what authority a president has to use the military without first consulting Congress.
That's an important question because the Constitution gives Congress the authority to declare war, not any president unilaterally. Of course, Congress hasn't passed an actual war declaration since WWII. All of our actions militarily since then have either been in conjunction with the UN (Korea, Persian Gulf War) or with tacit approval of Congress to defend American lives (Vietnam, Afghanistan, Iraq). The latter were with congressional resolutions that fall short of true declarations.
Yet are there times when a president cannot wait for Congress to debate a matter because surprise is essential? Can the use of the military for one specific action be taken by presidential authority without a full declaration of war?
Let's look at the Reagan years for a couple of examples.
In 1983, a militant pro-Castro faction overthrew the government of Maurice Bishop, a moderate Marxist, on the island of Grenada. Reagan immediately understood the implications of the coup: if the new government survived, a third Cuba (Marxist Nicaragua was viewed as the second Cuba in Reagan's mind) would have come into existence during his watch. Grenada would become another Soviet client-state in the Western hemisphere.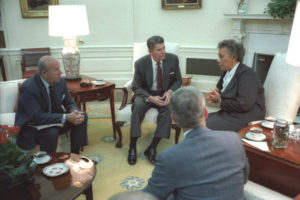 The new Grenadian administration brought in 600 Cubans to construct an airstrip that could accommodate large military planes. This worried not only the US but other island-nations in the region. Prime Minister Eugenia Charles of Dominica came to the White House to share her concerns with Reagan and ask for help.
Another factor Reagan had to take under consideration was several hundred Americans who were attending a medical school on the island. He wanted to ensure their safety, but knew that if word got out that action was being contemplated, those Americans could easily become hostages. The threat of another Iranian-type hostage situation loomed.
So, for national security reasons and fear for the safety of American lives, Reagan chose to act swiftly and as quietly as possible. He did bring in congressional leadership, both Republican and Democrat, before taking action, informing them of the situation. He got the go-ahead from them to proceed.
On October 25, Reagan sent 10,000 U.S. marines and army airborne troops to invade the island. All resistance was eliminated after three days of fighting. At first, some members of Congress were outraged, but public support for the invasion soared as TV coverage featured interviews with the grateful American students.
Then there was Libya in 1986.
This radical Islamic state ruled by strongman Muammar Qaddafi had used its oil revenues to bankroll terrorists in Europe and the Middle East. On April 15, 1986, having concluded that Libya had supported and financed the bombing of a nightclub in Berlin frequented by American military personnel, Reagan ordered the bombing of five targets in Libya, including the presidential palace.
Reagan wanted to send a message to Qaddafi that he needed to back off his financial support for terrorism, and that he should think twice before aiding and abetting attacks that might kill and injure US soldiers.
Again, Reagan felt that giving advance warning for this punitive action would allow Libya to prepare for it and minimize the damage. He had already publicly proclaimed the US perspective on Libya and other nations directly involved with terrorism when he said in a speech that Iran, North Korea, Cuba, Nicaragua, and Libya were "outlaw states run by the strangest collection of misfits, loony-tunes and squalid criminals since the advent of the Third Reich." Of Qaddafi, he said, "He's not only a barbarian, he's flaky."
In both of these instances, Reagan took into consideration national security and saving the lives of American citizens. Both actions were short-term, not full-fledged wars, and required secrecy for their success.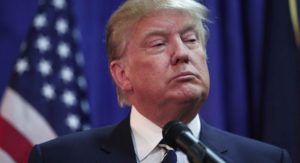 Trump's decisions have to be evaluated in that same light. I have no problem with the Afghanistan bombing, as it is part of an ongoing effort to eliminate terrorism aimed at America. It would be nice, though, for Congress to go the whole way for a declaration of war and make it more constitutional. Yet I realize that it is difficult in this situation because terrorism is not confined to one nation; it is a continuing problem that pops up everywhere.
As for Syria, I have mixed feelings. Trump apparently decided to go ahead with that bombing because of the use of chemical weapons on Syrian citizens. He saw pictures of the results and was horrified. Who wouldn't be?
But was there a direct danger to American citizens over Syria's use of chemical weapons? Was our national security threatened by this terrible action? We are a compassionate people who want to stop atrocities, but can we do that everywhere in the world? Aren't atrocities occurring in many nations? Where do we strike and where do we not?
Decisions need to be made on the basis of national security and saving American lives first and foremost. Other reasons may enter in as well, but there needs to be a compelling need to act; we can't merely make emotional decisions.
My concern is that Trump often makes decisions based on emotion. He has little understanding of constitutional authority and limitations; neither does he care to learn.
While I can inwardly cheer that the bombing in Syria sends a message, I can wonder about the wisdom of that decision and whether it really accomplished its purposes.
My concerns about how Trump makes decisions and whether he has any bedrock principles have never gone away. I'm also concerned that too many Americans don't care about those principles. Yet without a proper understanding of the rule of law, we are in trouble.