Two more days and Barack Obama will no longer be president. On his way out, he's doing his best to make sure he's not forgotten. He just commuted the sentence of Bradley/Chelsea (take your pick) Manning, the former army intelligence officer who leaked sensitive intel back in 2010. Obama also shortened the sentences of 209 other convicts and fully pardoned another 64. No president has ever overturned as many sentences as Obama has done in his eight years.
Some of those might have been good decisions, but based on his overall record these past eight years, his basic worldview, and his radical political beliefs, I can say with some sense of assurance that most were not people I would have pardoned if given the choice.
The presidential farewell address has become a tradition of late. Ronald Reagan's was one of the most eloquent. I encourage you to find that one on YouTube and watch a real president who had quiet dignity and humility.
Then there's Obama. He had to go out with a flair, speaking to a huge crowd of adoring fans in his home city of Chicago. It was not a farewell address in the sense of others like Reagan's; rather, it was another campaign rally, focused on defending his actions. In other words, it was no different than all of his other speeches.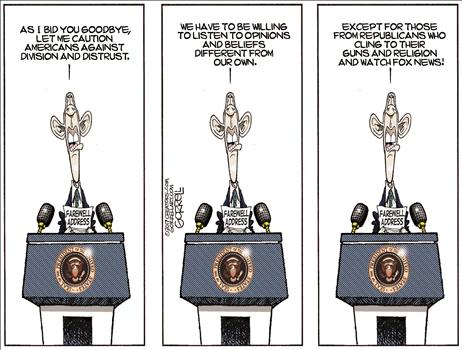 It left out some things that he didn't really want to mention:
More than one cartoonist picked up on that theme:
He seems to believe he has made America better during his tenure. Most of America, though—the America outside of academia and the entertainment industry—has a different perspective:
Yet the Democrats will never see it that way. Their view of Obamaworld has a distinct hue: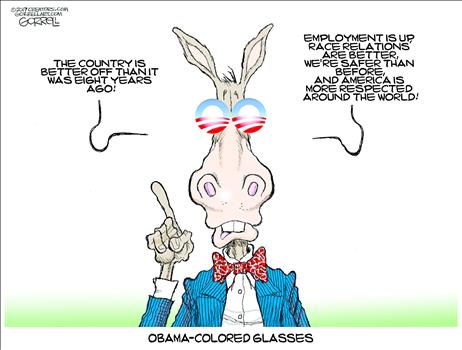 They are going to have to come to terms with the arrival of a new president. What will he bring? Can we have confidence in him? On inauguration day, I will offer my thoughts on those questions.