I've decided to devote today's post to praise for a number of things that have gone right lately. It's always easy to critique the development of current events, given the Obama administration's penchant for upending the Constitution and Biblical morality, so it's nice to point out the other side for a change.
All of these praises today come, surprisingly, as a result of Supreme Court decisions. After the agony of the Court's rulings on Obamacare and the Defense of Marriage Act, it's a relief to see the Court, once in a while, come out on the side of the Constitution, particularly religious liberty and free speech.
For instance, the Court overturned a Massachusetts law that created a so-called "buffer zone" that banned pro-lifers from entering. Outside abortion clinics, pro-life citizens were not allowed to speak to women entering the clinics in that state. They had to stay a "safe" distance away. The Court ruled that this was a direct violation of those citizens' right to free speech. They were not protesters, said the Court, but concerned citizens who sought to engage other citizens in a discussion of issues. I've read where Massachusetts authorities are livid over this decision and are trying to figure a way around it, but for now, free speech and the sanctity of life prevail.
Colorado Christian University won a temporary injunction against the imposition of the Obamacare requirements for providing all types of birth control. This is similar to the Hobby Lobby case, which I'll get to shortly.
Prior to ruling on Hobby Lobby, the Court exercised a restraining order, so to speak, on President Obama when it comes to making recess appointments. The problem was that Obama himself determined that the Senate wasn't in session, so he went ahead and filled positions without the Senate's approval. The Senate, however, still deemed itself in session. The president has no right under the Constitution to declare the Senate not in session. Interestingly, this was a 9-0 decision, with even the liberal/progressive justices in agreement.
Obama's attempt to govern unilaterally was struck down, and it was only the precursor to what the Court had to say about Hobby Lobby:
Actually, two cases, very similar, were decided. Along with Hobby Lobby's lawsuit against being forced to offer its employees aborifacients, another company operating on its Christian faith, Conestoga Wood, had filed suit as well. Both were vindicated by the Court's decisions. Justice Samuel Alito, in his majority opinion, made it clear that closely held corporations like these two have all the rights of individuals, including liberty of conscience in matters of religious belief. Both companies operate with Biblical foundations, and both were given exemptions from the mandate. The opinion rested on the Religious Freedom Restoration Act, a law passed in the House by acclamation and in the Senate by a vote of 97-3 back in 1993. The president who signed it into law was Bill Clinton. It seems Democrats were for it back then; now they cry foul when it is actually put into practice.
The only sad part of this is that the decision revealed a split Court, ruling in those companies' favor by only 5-4. This shows how we remain on a precipice as we look toward the future of religious liberty in America: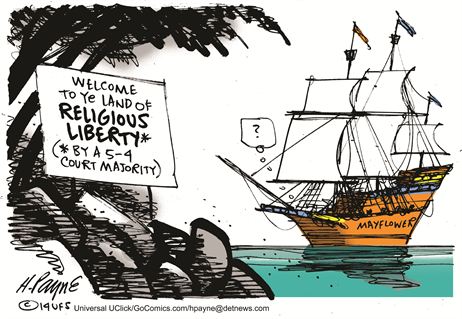 Meanwhile, the silly argument that this is somehow a war on women and that women's health is now endangered continues unabated. Never mind that no woman has been cut off from birth control; ignore that the cost is not prohibitive; and don't let the general public know the truth about Hobby Lobby—that it does offer birth control in its health plan, just not the types that may cause abortions:
What the Supreme Court has done these last couple of weeks is rein in a president who has been acting like a king:
For now, at least, his pretensions have been challenged:
On top of all this, Speaker John Boehner has announced that he is bringing a lawsuit against the president for his unlawful actions, taking upon himself the prerogatives of Congress. Obama is unbowed by this new threat to his quest for complete authority: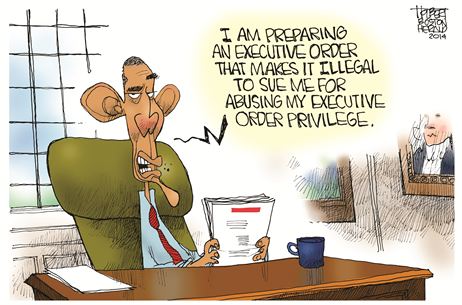 He will never allow the Constitution to get in his way. That's why we must remain vigilant.
But, for today, I rejoice over the recent victories.