Politicians from all countries throughout all ages have lied. That's nothing new. Neither is it unexpected. The power that comes with political position brings all latent arrogance/pride to the surface more easily perhaps than other professions. While lying is pandemic (one of the Ten Commandments forbids giving false witness), some politicians have taken the practice to a higher level.
Take the Obama administration and the Democrats as a whole, for example (you knew I was going there, right?). To what lengths are these people willing to go to maintain power? Harry Reid, on the Senate floor in the last election cycle, flatly stated that Mitt Romney hadn't paid taxes in ten years. It was patently false, but that didn't stop him from declaring it. President Obama refuses to acknowledge one smidgen of corruption in the IRS affair. Everyone, including the president himself, knows that's a whopper.
One of the biggest lies promoted in the previous presidential election was that the Republicans were waging a war on women. The proof? Why, they didn't want to pay for contraception for everyone. A "poor" Georgetown law student who would soon be a lawyer raking in more money than most people ever see, was being discriminated against.
They now have decided that's still a winner. The phony "War on Women" has been resurrected: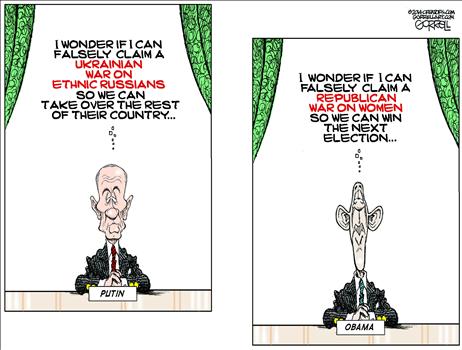 Also in circulation is the discredited statistic that women only make 77 cents on the dollar compared to men. That has been debunked on both the Right and the Left; it doesn't take into account many other factors. Yet that hasn't stopped Obama from making it the basis of his latest accusations:
It's rather embarrassing to trumpet a war on women using this approach when one's own White House pays women less than men. Well, change that—this administration isn't embarrassed by anything, not even loss of credibility:
Remember when Romney made a remark about having binders full of women? Although everyone knew what he really meant by that comment, the Democrats made a joke out of it, and used it as further evidence that women were on the periphery of Republicans' interests. Perhaps there's a better application of that phrase now:
The hypocrisy and outright lying on this issue is so blatant, I'm sure the mainstream media will pick up on it very soon. Sure. The same media that avoided reporting Obama's remark about having visited all 57 states is not about to start being honest now. The rest of us are the ones who have to disseminate the truth. We need to be faithful in that task.