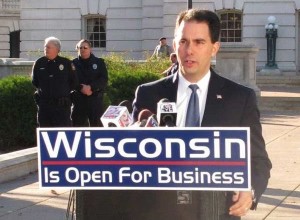 Scott Walker, governor of Wisconsin, has chalked up an amazing record. He first entered the national news cycle when he stood firm against unreasonable union demands in his state and won. Then he had to face a recall election. He won again. Wisconsin has prospered under his administration, with an unemployment level plunging below the national average, state coffers with a surplus, and tax money being returned to the citizens of the state. Further, he has been a staunch defender of life, signing bills restricting abortion and defunding Planned Parenthood.
In almost every way, Walker has been an outstanding governor, and a model for Republican public servants throughout the nation. His success also has made him a target of hatred on the extreme Left (a term becoming more redundant with each passing day). Walker, a dedicated Christian, raised the ire of the Freedom From Religion Foundation the other day by offering this short tweet:
That Scripture simply affirms what Christians always have believed: "I can do all things through Christ who strengthens me." Pretty offensive, right? That foundation has demanded Walker remove the tweet from his account. Here's part of the official response from the Freedom From Religion atheist leaders:
To say, "I can do all things through Christ who strengthens me," seems more like a threat—or the utterance of a theocratic dictator—than a duly elected civil servant.
A theocratic dictator? Simply for thanking God for the strength to carry out his duties? Is this really where we are now as a nation? We're seeing more and more the public manifestation of anger toward those who hold to Biblical beliefs, and there is no limit to how anything Christians say can be willfully twisted into something "hateful" or threatening. Let's be clear: it's not the Christians who are threatening anyone (except with the truth about their sinfulness). The threats are pretty much one-sided nowadays against those who remain firm in the faith.
To Walker's credit, he refuses to take down the tweet. May there be more public servants who will follow his example.