As we close the book on 2010, and as we consider the challenges that loom, some select quotes from Ronald Reagan may help us focus on our responsibilities. There are some quotes from Reagan with which many people are familiar, but I've chosen to pull out some that are less well known, yet just as insightful.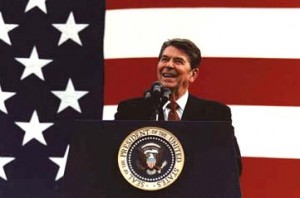 Just two months into his presidency, right before the assassination attempt, he spoke at the Conservative Political Action Conference dinner:
We've heard in our century far too much of the sounds of anguish from those who live under totalitarian rule. We've seen too many monuments made not out of marble or stone but out of barbed wire and terror. But from these terrible places have come survivors, witnesses to the triumph of the human spirit over the mystique of state power, prisoners whose spiritual values made them the rulers of their guards. With their survival, they brought us the secret of the camps, a lesson for our time and for any age: Evil is powerless if the good are unafraid.
That last line is the key. As we think of the battles ahead, we need to believe that. At a commemoration of the tenth anniversary of the Heritage Foundation, he exhorted his audience that they had to face the reality of the world situation:
We must never be inhibited by those who say telling the truth about the Soviet empire is an act of belligerence on our part. To the contrary, we must continue to remind the world that self-delusion in the face of unpleasant facts is folly, that whatever the imperfections of the democratic nations, the struggle now going on in the world is essentially the struggle between freedom and totalitarianism, between what is right and what is wrong. This is not a simplistic or unsophisticated observation. Rather, it's the beginning of wisdom about the world we live in, the perils we face, and the great opportunity we have in the years ahead to broaden the frontiers of freedom and to build a durable, meaningful peace.
When laying a wreath at Arlington National Cemetery, Reagan spoke of principles and common sense:
Peace fails when we forget what we stand for. It fails when we forget that our Republic is based on firm principles, principles that have real meaning, that with them, we are the last, best hope of man on Earth; without them, we're little more than the crust of a continent. Peace also fails when we forget to bring to the bargaining table God's first intellectual gift to man: common sense. Common sense gives us a realistic knowledge of human beings and how they think, how they live in the world, what motivates them. Common sense tells us that man has magic in him, but also clay. Common sense can tell the difference between right and wrong. Common sense forgives error, but it always recognizes it to be error first.
I added the emphasis at the end.
I'll conclude today with a pithy, yet valuable, Reagan perspective—one we would do well to remember:
History is no captive of some inevitable force. History is made by men and women of vision and courage.
Let's go out and make some history in 2011.