Give thanks today for an organization known as the Federalist Society, which vets potential federal court nominees for President Trump. The latest Supreme Court pick, Brett Kavanaugh, even with a few question marks in the eyes of some conservatives, seems to be a solid choice.
Of course, Democrats were poised to oppose whomever Trump nominated; it didn't matter who it was. This political cartoon makes the point rather well:
Pray for Kavanaugh—he is about to go through one of the worst experiences of his life:
If he survives it, we will (hopefully) have a Supreme Court more likely to adhere to constitutional principles. Alito and Roberts (the latter for the most part) began the move back toward constitutionalism—along with the stalwart Clarence Thomas—and the addition of Gorsuch and Kavanaugh should strengthen that move.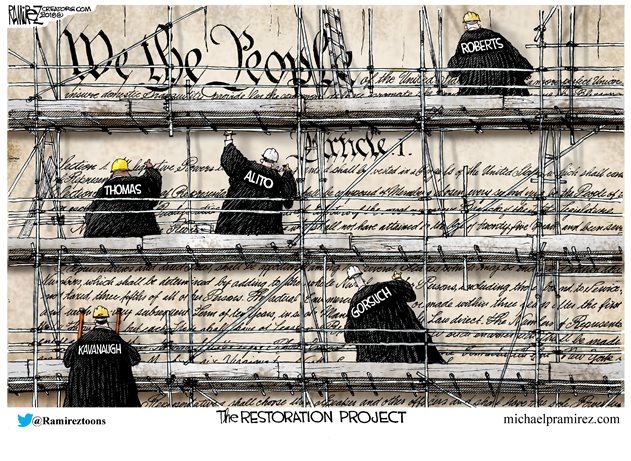 Trump made a good choice with Kavanaugh.
I also have to come down on Trump's side when certain FBI agents made it quite clear that they had an agenda against him as they pursued the Russia investigation. The bias of the two agents, Peter Strzok and Lisa Page, can't legitimately be downplayed.
Yet Democrats, when Strzok appeared before the House committee, did their best to ignore the evidence. That particular hearing highlighted the deep polarization of our politics perhaps more than anything else recently:
Yet Trump has a problem in that he cannot seem to distinguish between the fact of Russian meddling and the investigation into possible collusion. Proving the former does not prove the latter, but he always wants to conflate them.
I seriously doubt that he colluded. But when he says that the Mueller investigation is only a witch hunt and that there is no real evidence that Russia tried to meddle in the election, he raises questions as to why he is so insistent on that. It makes one wonder if there's some truth to the collusion after all.
No matter what one thinks of that investigation, keep in mind it has not indicted Trump at all; it has fingered the Russians who were involved, and that's important to know even if they never are brought to justice. We need to learn from what happened.
Putin says there's no truth to the investigation or the indictments. And we should believe him? Why? Because this dictator, invader of Crimea, and strong-armed murderer of opponents is entirely believable? Really?
Trump's now-infamous press conference with Putin, in which he said he saw no reason to believe Russia was involved, and in which he cast equal blame on America for problems with Russia, was cringe-worthy.
The reaction wasn't just from the nether regions of the Lunatic Left. His own Director of National Intelligence, Dan Coats, felt he had to go public with a statement that the meddling was a matter of fact. Coats, by the way, if you are unfamiliar with him, is a Christian man of high integrity. He would not have made that statement if he didn't believe it is true.
Others have noted that conservatives in the intelligence community, who are not anti-Trump, feel betrayed by their commander in chief.
Trump played the moral equivalence game—America is just as bad as Russia. At the very least, it diminished him as he stood next to Putin.
Some of his best advisors helped him see he had to walk that back. His statement the next day, though, was just as problematic because he attempted, rather awkwardly and not very authentically, to say he didn't really mean what he said. The whole thing looked forced, and he ended by saying that while the Russians might have been involved, there might have been others as well.
It didn't help.
I would have welcomed a president with a deeper understanding of constitutionalism and principles of government than Trump. Republican primary voters, though, opted instead for this.
It's the hand we've been dealt. We have to make the best of it.