I've been an aficionado of clever comic strips all my life. My favorite, throughout my childhood and into high school, was Charles Schulz's wonderful "Peanuts" strip with all the memorable characters: Charlie Brown, Snoopy, Linus, Lucy, etc. The strip was a cultural phenomenon back in the 1960s, in particular.
Schulz used his strip to communicate his Christian faith as well as offer commentary on cultural changes and the meaning of life. He never preached stridently; he allowed the message to come at you indirectly, making one stop and think a bit about what he was saying.
Later, I became a great fan of the "Calvin and Hobbes" strip. My students sometimes must feel they are awash in the insights from that one.
When Bill Watterson, the brilliant artist of the strip, brought  "Calvin and Hobbes" to an end in the 1990s, I was deeply saddened, but later some of my students presented me with the entire collection, from which I have helped "instruct" students ever since.
Nowadays, one of my favorite comics that touches on the foolishness/silliness of our modern cultural trends is "Mallard Fillmore," a title with a nice touch for an American historian like me. The artist, Bruce Tinsley, is a conservative in politics and, based on what I've seen in his strip, a committed Christian. He takes on political correctness in a poignant way.
Lately, Tinsley has been on target with some of the most egregious modern trends and/or practices based on wrong ideas, one of which is that people really aren't accountable for their actions: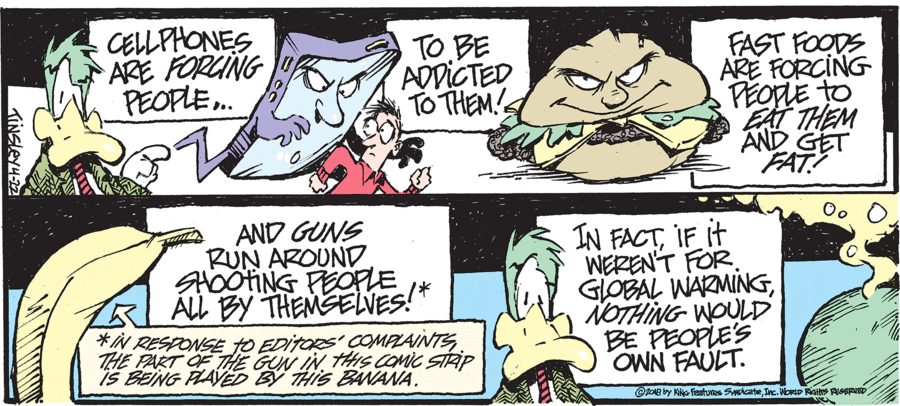 In the wake of the Parkland shootings, Tinsley offered this commentary on the drift of society:
Just the right amount of sarcasm, in my opinion, in the pursuit of communicating truth.
He often pokes fun at education trends and the issue of free speech. Sometimes, he can combine them rather easily, as universities have become a haven for the stifling of speech that the prevailing "wisdom" decries:
While I am a devotee of expounding Biblical principles and trying to explain how they apply to each one of us individually and to our society as a whole, I appreciate the ability of comics such as these to help me make my points. Regular readers of this blog know that I punctuate many of my posts with what I believe are appropriate comics and political cartoons to aid in my explanations.
That will never stop as long as there are talented artists (and I do believe that is the correct term) who can highlight the concepts I want to expound upon.