While in London with the SEU students, I had the opportunity to see some historic sites I missed the first time. Striking out on my own our very first day, after spending a few hours in the Churchill War Rooms, I found the Banqueting House not too far away. For a while, in the 17th century, this was the most regal building in London, where the kings held receptions for foreign dignitaries and put on lavish theatrical productions.
The main hall was most inviting, given the objects on the floor: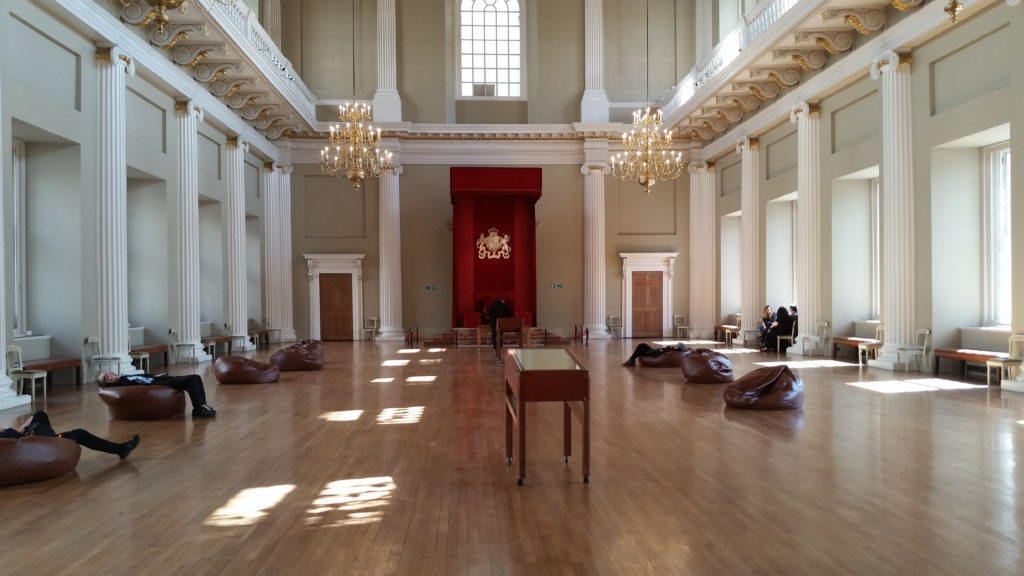 Yes, those are beanbags. Why are they placed there? So visitors can listen to their audio guide while studying the ceiling, which is completely filled with paintings by famous artist Peter Paul Rubens, who was commissioned by Charles I to glorify the concept of the divine right of kings.
The paintings are beautiful, and the beanbags come in handy so no one will hurt their necks trying to study them. That theme of divine right of kings, though, is a little ironic. This building is the very place where a scaffold was erected outside a window on which Charles I was beheaded in 1649.
Another site I wanted very much to see was Kensington Palace. The grand entrance showcases this sculpture of Queen Victoria.
Going through the rooms, I learned a lot more about the monarchs William and Mary and George II. Particularly impressive were rooms such as the King's Gallery: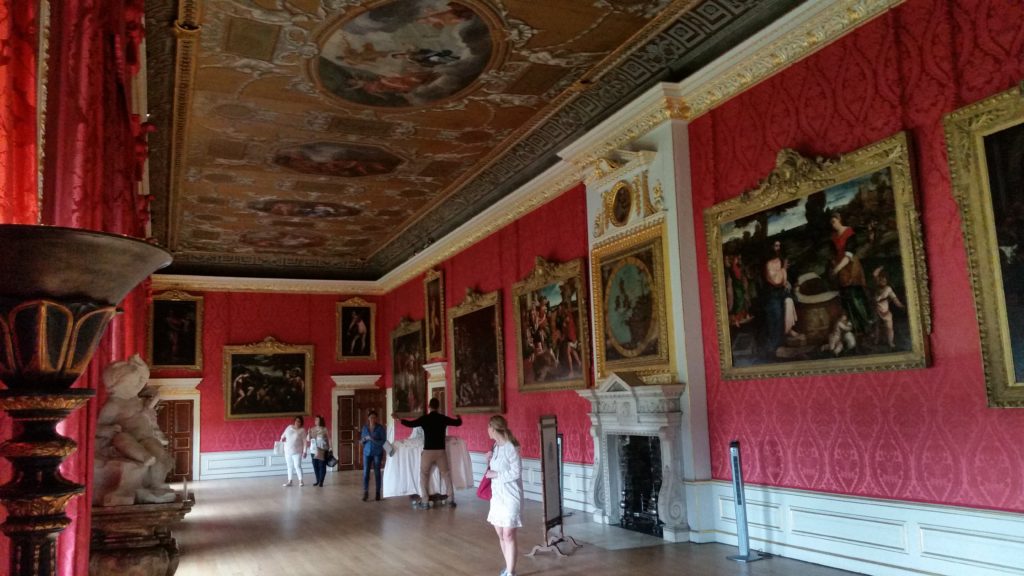 The one disappointment was an absolute exclusion of anything about Victoria. I found that puzzling since this was one of her main residences. Instead, I was treated to a display of Princess Diana's dresses. Yes, they were nice, but not high on my priority list. And no, I didn't take any photos of them. Sorry.
Everyone who goes to London must spend time at the Tower. If you get a humourous Beefeater guide, it's a plus. We got one.The history of this place is filled with sad tales of imprisonments and executions, many of which were unwarranted as the historical records are studied today. The main tower in the middle of the complex is where it gets its name.
From one angle, you can see the Tower with Tower Bridge in the background, a photo I thought worth taking.
Of course, one stop in the complex for everyone is always the building that houses the Crown Jewels.
A pearl often missed by most, but not by a historian with my particular interests, is the church just outside the Tower that has been there a long time: All Hallows. In its crypt is a fascinating little historical museum.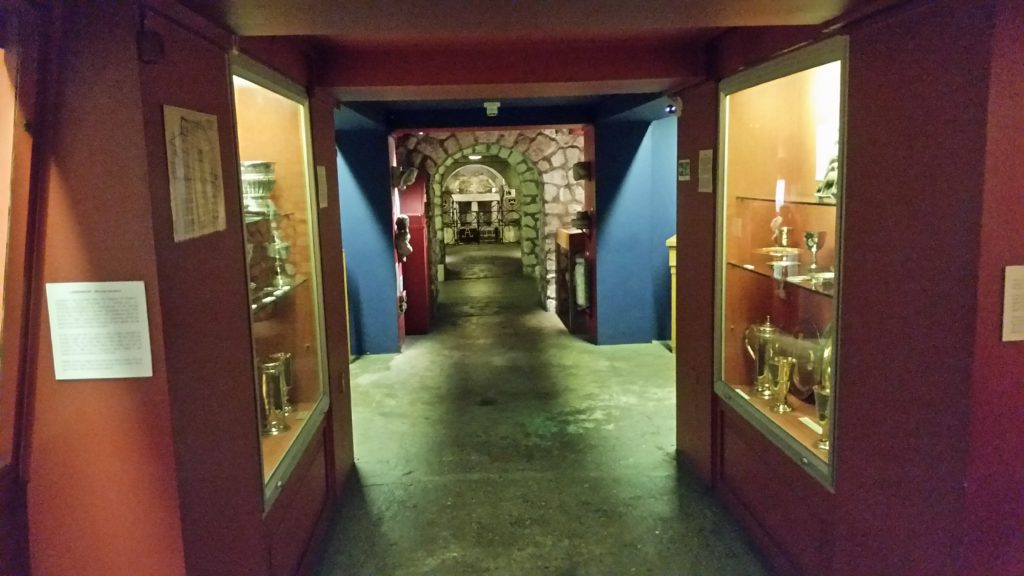 This church is where John Quincy Adams married Louisa Johnson, a British citizen and the only First Lady who was not born an American until our current First Lady, Melania Trump.
A display showcases the records of the church where the marriage is recorded.
On our last London day, we were able to tour Parliament.
I had been there twenty years ago, but don't recall seeing as much as we did that day. Unfortunately, photos were not allowed in the places where one would most like to take a photo: House of Lords, House of Commons, Queen's Robing Room, etc. But the oldest part of the building, Westminster Hall, now serves as the entry for visitors and photos can be taken there: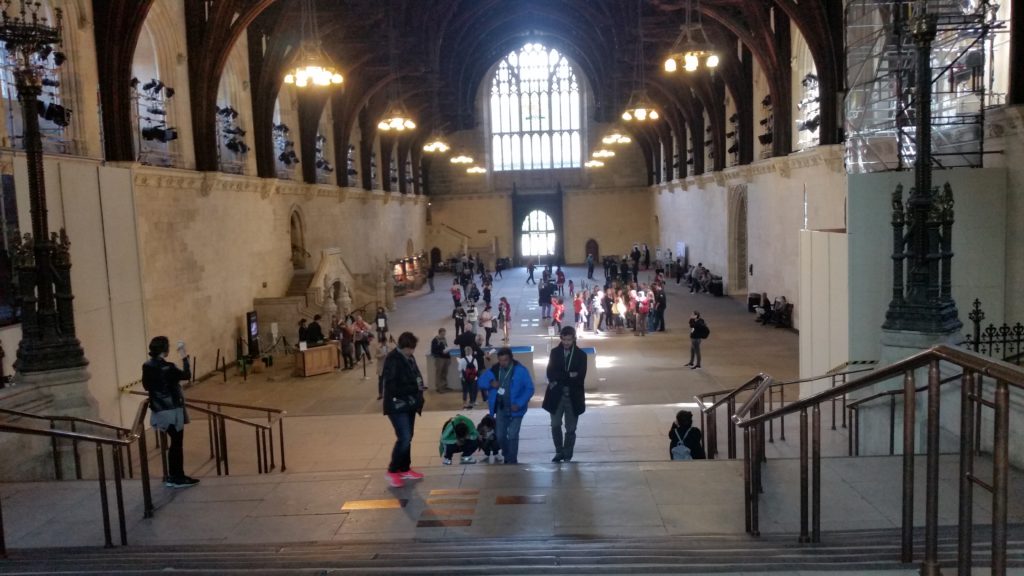 St. Stephen's Chapel, which once served as the meeting place for the Commons, is now a historical treasure trove of paintings and sculptures: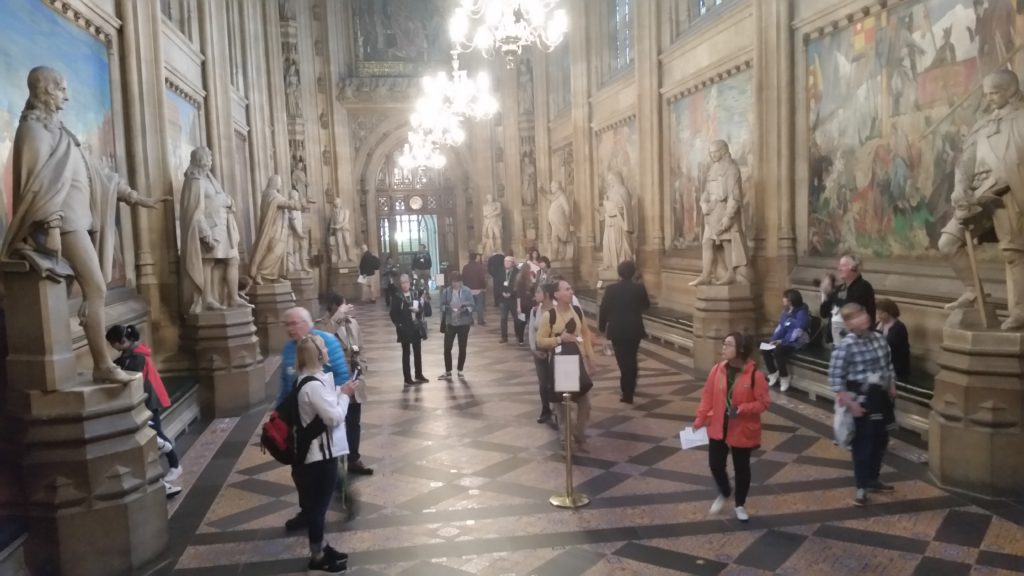 My time in London was a historian's delight.