Just a few weeks prior to my England trip, Masterpiece Theater presented a movie on the Bronte family called To Walk Invisible. Since I knew I was going to be at the Brontes' home, I made sure to watch it.
The film was so authentic with respect to the accent in their native region that it was not always easy to understand what was being said. But the gist of the story came through. And, as always, the quality of the acting and production was superb.
I learned a lot through that presentation. The three sisters—Charlotte, Emily, and Anne—originally published under pseudonyms as men, thinking they wouldn't be accepted as female authors. Their lives were tragic in that none lived to the age of forty, and Charlotte, the eldest and the one who made it to thirty-nine, witnessed the deaths of her brother and her other two sisters in the space of one year. Their short lives are why they didn't have the opportunity to write more.
So we are left, primarily, with Charlotte's Jane Eyre, Emily's Wuthering Heights, and Anne's Agnes Grey as testimonials to their talents.
The Bronte parsonage (their father was an Anglican clergyman) takes full advantage of the Masterpiece film. The first room on the left as you enter is the dining room, but it doubled as their writing room. Outfits worn in the film are now part of the tour.
Outside the gift shop is an appropriate memorial to the sisters:
This visit provided one of my most amusing driving experiences. I was dutifully following the GPS directions, which told me I had arrived. What I saw before me was a narrow and winding road going almost straight up (to where I did not know). I followed it, only to come to a dead end at the Bronte gift shop. There were no other cars around, no place to park, and I had to do one of my famous 12-point turns to get back in the other direction. From that height, we could see the actual parking lot down below on our left.
I now know why the couple of people at the top looked rather puzzled as to why we were there. But this meant I had to negotiate my way back down through that narrow alleyway and find the entrance to that parking lot. Managing that without destroying both sides of the car may have been one of God's minor interventions in my life.
In London, three of us made the trek to the Charles Dickens Museum, located in one of the homes he rented for a number of years. While I've seen many film adaptations of Dickens's works, especially A Christmas Carol, Great Expectations, and Oliver Twist, I believe I've read only Great Expectations and A Tale of Two Cities (my early reading in school is becoming a rather dim memory now).
The three-story museum (four stories, if you count the basement) in this venerable townhouse is laid out exactly as it would have looked when Dickens lived there, with much of the original furniture.
When Dickens wanted to entertain, which he did quite often, he would invite visitors to his parlour.
Often, at these gatherings, Dickens would dress up and be the actor in scenes from plays. He loved entertaining others.
Right next to the parlour was his library, which has the desk Dickens used in this home, and on which he wrote Great Expectations and A Tale of Two Cities.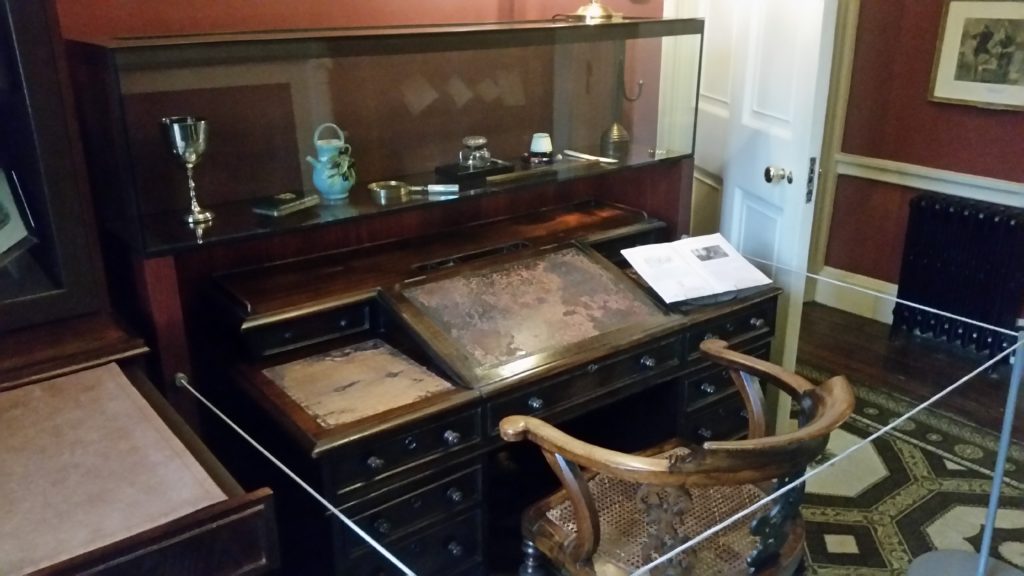 The saddest fact I learned on this tour had to do with Dickens's marriage. His wife, Catherine, with whom he had ten children, suffered from depression later in life and Dickens didn't want to deal with it. He initiated a legal separation and had a mistress for his remaining years. These portraits of the Dickenses are from an earlier, happier time.
This should be a cautionary tale. We celebrate literary genius—and Dickens certainly had that—but a solid foundation in the Christian faith and the moral character required of us is the legacy that has the greatest significance.
That's the legacy I want to leave.