On Friday, I pledged to be an honest appraiser of the new president and his actions, praising good ones and offering a critique for others not so good. Over his first weekend in office, President Trump gave me the opportunity to do both today.
Let's begin with praise.
First, just seeing a photo of the Oval Office without its previous occupant is a relief for many of us. Second, Trump's action in this photo is the beginning of fulfilling a promise: dismantling Obamacare. He issued an executive order that lessens the stranglehold Obamacare put on the federal bureaucracy—an initial step that prepares the way for a full repeal by Congress.
To those who may say this is no different than Obama's use of executive orders, I say that it's a world of difference. Obama used them to impose his will unconstitutionally; Trump's simply eased the burden Obama imposed. That's called reining in the government, not extending its overreach.
What may be perhaps a small token of the attitude of this new administration is also welcome: the return of the bust of Winston Churchill to the Oval Office. One of Obama's first slaps in the face to our allies was his jettisoning of that bust.
Welcome back, Mr. Churchill.
There is another bust present in the Oval Office, that of Martin Luther King. Some in the media reported that it had been removed. That turned out to be utterly false; it was merely blocked out in a photo due to the angle of the picture with someone standing in front of it. That's an indication of what the typical media will try to do. Shall we call that one fake news? Sounds right to me.
If only Trump had allowed his Obamacare executive order to be the focus. Instead, he had his new press secretary, Sean Spicer, come out in a press conference and trump up (sorry, I'll do my best not to overuse that phrase in the next four years) an accusation that the media was falsely reporting on the size of the crowd at the inauguration.
To be fair, the media does do that on a rather consistent basis. Every year, at the March for Life (which will occur again next weekend), the media either ignores the March completely or does its best to downplay the turnout. So, yes, I know that happens. For a comparison of the inauguration crowds, this picture was used as evidence: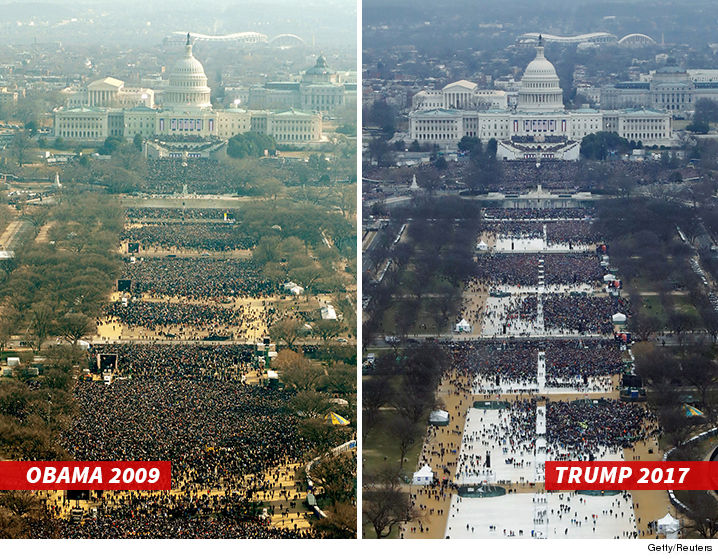 One can always question the use of such pictures. At what point was the picture of the Trump crowd taken? Was it at the height of the ceremony or before? I don't know.
But why make such a big deal about it and push it to the top of the news cycle within 24 hours of taking office? Was it a smaller crowd than at Obama's inaugural? I have no problem believing that for a number of reasons: concern for security may have kept some people away, especially in light of the predictions of violence at the ceremony; conservatives not being as motivated to go to D.C, seeing it as an essentially liberal place; the fact that most conservatives have jobs on weekdays.
One commentator, I believe, captured the real problem here:
Trump, being a reality TV star, puts a lot of stock in popularity and TV ratings. . . .

It was a lot of attention paid to what is a non-issue.

Whether it was a million people or five people who showed for the inauguration, Trump is still president and there's still a lot of serious work he needs to be addressing. This is a non-issue.
Spicer (and Trump later) alluded to the TV audience being larger. Well, here are the facts about that, according to the Nielsen ratings as reported by Bloomberg:
Trump's nearly 31 million television audience came 7 million short of Obama's 2009 inauguration, and had almost 11 million fewer viewers than when Reagan was sworn into office in 1981.

According to Bloomberg, Trump did attract a larger audience than former Presidents Bill Clinton, George H. W. Bush and George W. Bush.
Those are the facts with respect to the TV audience, and it would be dishonest for Trump or anyone else in his administration to say otherwise.
As an aside, I remarked to my wife while watching some of the inaugural parade, that the stands set up for viewers, at least at one place along the parade route, were conspiculously empty. I was surprised by that. Was I seeing the only empty portion of the stands or was that indicative of the entire route? Again, I don't know.
But what does crowd size really matter? Nothing. Absolutely nothing.
What matters is whether President Trump does his job, and does it well. Let's focus on that, shall we, and leave ego about crowd size behind us.