I talk a lot about principles. After all, look at the title of this blog. The word means a lot to me. It's the same with a related word: integrity.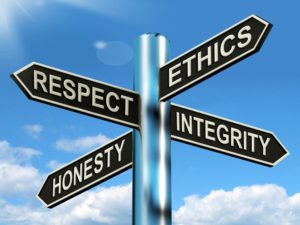 How is integrity defined? I like this definition:
Adherence to moral and ethical principles; soundness of moral character; honesty.
I like that it incorporates principle in the definition and that honesty, morality, and ethical conduct are all included.
This is what God looks for in men and women, especially those who seek to be placed in a position of trust, whether in a marriage, a business, a ministry, or a political office.
When I wrote my book about Ronald Reagan and Whittaker Chambers, it was a joy to do so because my two subjects were men of integrity.
As I point out in the book, their visions of the future differed. Reagan was the eternal optimist, believing that freedom was the wave of the future because men would listen to the promptings of God's spirit and respond accordingly. Chambers, however, didn't have much faith in the soundness of character in the general public. He was much more pessimistic about the future.
Yet even though they maintained different expectations, they nevertheless were men who could be trusted. Those who knew them knew they could count on them to be faithful to what they believed and that their word was their bond.
So my book is not primarily a book about politics, but about character. I encourage you to get a copy if you haven't already and read about men of genuine integrity.
I decided to investigate what the Scriptures have to say about integrity. Some references stand out. Here are some examples:
Shouldn't this be our guide whenever we are faced with a choice for placing a person in a position of trust? If those who are put forward as our primary choices in a political season are both lacking in this quality, is it integrity on our part to go ahead and vote for one of them anyway?
David, in Psalm 26, makes a plea to the Lord in these words:
Vindicate me, O Lord, for I have walked in my integrity, and I have trusted in the Lord without wavering.

Examine me, O Lord, and try me; test my mind and my heart.
May that be our prayer also. May integrity be paramount for us as we go forward in our lives, and may we never stray from that path.