As I mentioned in yesterday's post, the second treat of this past week was the opportunity to trek up to the Reagan Ranch. And I do mean "up." I'm not one for heights, especially when there is a massive dropoff on the edge of a narrow road that twists and turns constantly. But if you survive that harrowing experience, you eventually make it to the top and see this:
Doesn't look like a mansion fit for a president, does it? That's true. It befits, though, the man who bought it in 1974, and who considered it his real home even when he occupied a little place called 1600 Pennsylvania Ave. in Washington, DC. This is a humble ranch, quite homey, and was called the Western White House.
Out in front is a patio where Reagan signed his landmark tax cut bill. You can see it in the background here:
It was a working ranch when Reagan lived there. He cut firewood, made fences, and stabled horses. Riding a horse was where he felt most at home, he often said. The tack room has been returned to the way it looked when the Reagans were there.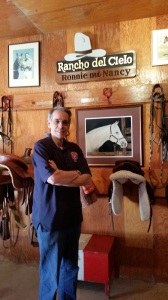 That fellow in the picture always seems to be popping up. You'll just have to excuse him.
The only real disappointment in this visit was the prohibition on taking photos inside the house, but tempted as I was to disregard that rule, I was obedient.
On the far edge of the property is a view that is breathtaking, although I'm sure this photo doesn't do it justice; it would require 3D to approximate the effect:
Our guide told us that when ABC news did a special on the Reagan Ranch, Reagan drove Barbara Walters up to this spot and then quoted to her the 121st Psalm, which begins with these words:
I will lift up mine eyes unto the hills, from whence cometh my help.

My help cometh from the Lord, which made heaven and earth.
One of Reagan's Secret Service agents who rode with him all the time has commented that Reagan, on horseback, riding the trails and peering at God's creation, used much of that time to pray. He felt he was in God's temple in the outdoors.
The Reagan Ranch Center in Santa Barbara, run by Young America's Foundation, which now owns the Reagan Ranch, has a chapel in its building that reflects Reagan's Biblical worldview.
On the wall above the Bible is the Scripture that Reagan had the Bible opened to when he was inaugurated as president. It is a familiar Scripture to Christians who are concerned about the future of this nation, but it bears repetition:
If my people, which are called by My name, shall humble themselves, and pray, and seek My face, and turn from their wicked ways, then will I hear from heaven, and will forgive their sin, and will heal their land.
We long for another president who recognizes the need for humility before the One who hears and answers prayer. We won't have Ronald Reagan again, but the Lord can work through another who will have that same spirit. Yet we probably won't get that person unless we follow what it says in this Scripture. God answers the prayers of the humble, those who see the awfulness of sin and who turn from wickedness. Only in that way will healing come to this land.