Michael Brown's funeral is now over. Nightly unrest seems to have left Ferguson, Missouri, for the present. However, expect it to return if the legal process doesn't go as some desire. This incident is not unique with respect to making a judgment before all the facts are known; it's becoming alarmingly common in matters touching on race.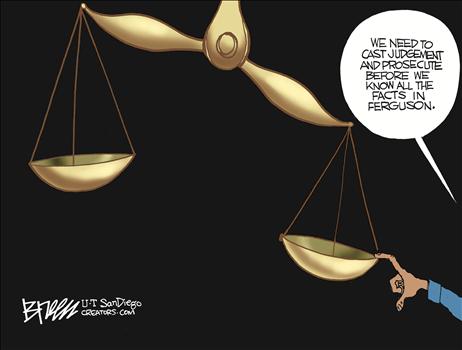 Gov. Nixon of Missouri and the Obama administration, represented by Attorney General Holder, have made it clear they have prejudged the situation. Nixon tried to walk back his comment about a vigorous prosecution of the police officer, but few are buying his semi-retraction. Holder says the DOJ will investigate fairly, but that is difficult to accept, given his predisposition to believe the narrative offered by Brown's advocates. The loss of one life is always a tragedy, but less so if that person attacked the policeman. We're still waiting for all the facts to come out. While we wait, we must ensure we don't suffer an even greater tragedy that would affect everyone:
My reluctance to give the Obama administration the benefit of the doubt when it comes to fairness and the rule of law stems from a long train of abuses in the past 5-plus years. The president seems to take any and every opportunity he can to blame Republicans for all the ills of society, never once taking any blame for himself:

Anyone who would use the IRS in an attempt to destroy political opponents has a lot of nerve casting blame on others:
Congressional elections are drawing near. Prospects for Democrats are not good. They have to hope all these issues can somehow be buried and that the electorate will suffer from collective amnesia:
Unfortunately for the Republic, they've been able to do this before. Only an alert and principled citizenry can ensure it doesn't happen again.