Secretary of State John Kerry certainly takes his job seriously. He always seems to be in a foreign country. And he's always giving speeches or making statements that can grab the headlines. Last week, in the midst of a crisis in Ukraine, the growing threat of Al Qaeda in Syria, the Iranian drive to develop nuclear weapons, and the Venezuelan crackdown on the massive protest against its socialist dictatorship, what does he decide to focus on? While Americans are digging out of a near-record winter, both in snowfall and low temperatures, he concludes the greatest threat to the world is global warming.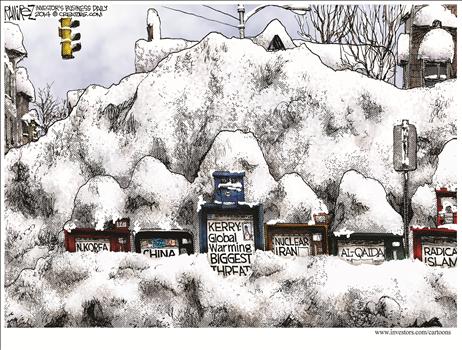 He even went so far as to say it is "settled" science, and that anyone who disagrees is part of the "flat-earth" society. Typical condescension from a member of the political/culture elite class that has little contact with the rest of America.
Kerry is the perfect complement to his boss, who has reduced America's influence on world affairs to an all-time low. Obama came into office pledging to make nice with everyone, and that would solve all the problems that the evil George Bush created. He's been played for a fool; the sad thing is how easy it was to expose his foolishness.
Perhaps he has better things to do?
I think one cartoonist has best illustrated this president's foreign policy achievements:
No, that's not a problem with the cartoon loading its image; that is the full image. A well-informed, well-executed foreign policy seems quite foreign to our president.