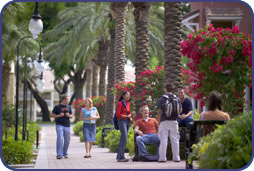 This past week a new academic year began. I always enjoy the beginning of a new year. It can be that way when you believe you have a calling from God to do what you're doing. I've used this blog on a number of occasions to express my gratitude for the opportunity I have to teach at Southeastern University, where I can provide a Biblical basis for every course and analyze American history through that Biblical lens. For me, there is no other way to teach. As Proverbs declares, reverence for the Lord is the beginning of both knowledge and wisdom, and knowledge of the Holy One brings understanding. That's what I desire for my students.
What Southeastern and I seek to do in higher education is not the norm. Spiritual goals are not at the heart of most students' education. What is?
That's funny and sad at the same time, but it pretty accurately depicts the cycle that traps most who enter the realm of higher education. For many, there's no greater goal than to get a job and make money [a large portion of which goes to loan payback]. Is that what life is all about? I prefer to follow the words of Jesus instead:
Do not store up for yourselves treasures on earth, where moth and rust destroy, and where thieves break in and steal. But store up for yourselves treasures in heaven, where neither moth nor rust destroys, and where thieves do not break in or steal; for where your treasure is, there your heart will be also. . . . For what will it profit a man if he gains the whole world and forfeits his soul? Or what will a man give in exchange for his soul?
Education should focus on the soul. This world is temporary; the soul lasts forever.