American Christians have had it pretty easy for the past few centuries. Whether or not the majority of the population was actually Christian at any time (only God knows for sure), the society, as a whole, always recognized the value of Christian belief and held a certain degree of respect for it.
Even during the debate over slavery that led to the Civil War, both sides were claiming to be following Scripture and used the Bible to argue their points.
That appeal to Scriptural authority no longer appears to be operative in the mainstream of American culture. The disdain for and rejection of Christian morality has now come to the forefront. It is most painfully obvious in the militaristic (I use that term advisedly) agenda that attempts to force everyone to embrace homosexuality as normal and legitimate.
I was teaching a Bible study last week where I used a passage from the Old Testament prophet Hosea, chapter 4, as he chastised his people for their faithlessness, and I believe it speaks to what we're experiencing now:
Hear the word of the Lord, you Israelites, because the Lord has a charge to bring against you who live in the land: "There is no faithfulness, no love, no acknowledgment of God in the land. . . ."

My people are destroyed from lack of knowledge. "Because you have rejected knowledge, I also reject you as my priests; because you have ignored the law of your God, I also will ignore your children."
That last line is not God being callous; rather, it's simply pointing out that the faithlessness of the people has led to no real knowledge of Him, with the consequences naturally falling on the next generation.
The sins of the fathers definitely do reverberate through the generations. As I look at America as a historian, I can see the beginnings—the first generations—where knowledge of God was pervasive in the culture. Then I survey what has happened since. Here's how I explain it:
First Generation:

The nation began with vision and zeal based on Christian faith, whether we are referring to the early settlers or the Founders who fought for independence and set up the government.

Second Generation:

The knowledge of God and the true faith continued in the society, but that initial vision and zeal began to abate. America still believed that Christianity was the bedrock of the culture, but the heart was not the same—head knowledge, not as much from the heart. When did this occur? I place it as starting after the Civil War with the introduction of new philosophies like evolution and new movements like progressivism.

Third Generation:

This is when the true knowledge of the faith began to diminish and society operated primarily on the tradition that had been handed down. We continued to think certain things were moral and others were immoral, but we lost our rationale for why that was so. We stopped explaining morality from a Biblical foundation and just declared that some things were right and others were wrong. We had "Biblical memories" without Biblical knowledge.

Fourth Generation:

As things progressed (regressed?), we then began to toss aside even the traditions that kept a certain morality in place. We lost our moorings and constructed different foundations with an entirely new concept of right and wrong.
That Fourth Generation is what we are now entering with a vengeance. "Who says that abortion and homosexuality are wrong? Sin? What an outmoded term. Those who continue to harbor those old ideas are narrow, bigoted, and need to be coerced into accepting our new enlightened age that rejects those silly restrictions."
Yes, we've come a long way.
Many Christians are shocked by what they see developing. We have to fight for civic rights that we once thought inviolable. Businesses run by Christians are under attack for not bowing to the New Enlightenment.
Is there a Fifth Generation coming? If so, what will it be? Are we going to get even further from God's truth in the next generation, or will there perhaps be a backlash as the consequences of accepting immorality as normal become more evident?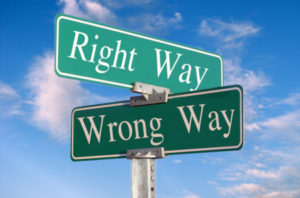 Like you, I would prefer a society that respects Christian faith. However, we need to see this time of spiritual stress also as an opportunity. As those who enter into the New Paganism (which is the more correct description) begin to suffer for it, we need to be ready to offer the hand of healing and direction back to Biblical truth.
Are we ready to do that? Rather than spending our time bemoaning the loss of what once was, are we willing to follow our Lord into this new field of harvest for Him?