I have studiously avoided saying much about the ongoing Russia probe and the accusations of spying by the FBI on the Trump team. Why? Because it's all so up in the air when it comes to actually knowing what happened and whether any of it makes any difference.
To be sure, there were contacts made by some of Trump's people with Russians. Trump Jr. is a solid example. He went to a meeting expecting to get dirt on Hillary and was disappointed when nothing came of it. So, is he guilty or not? Trump supporters say that since nothing happened, it's a moot point. Others will note the intent—after all, God looks at the heart.
Some people see the Russia probe as just an attempt to get Trump by whatever means possible, especially Democrats who continue to play with the idea that somehow Russia determined the outcome of the election. This particular probe seems to be going on forever.
After a while, the public loses interest, but congressional leaders, even Republicans, after viewing some of the evidence at a closed hearing, believe it should go on. I agree. Let's find out the truth, wherever that may lead.
Then there's that spy thing. There is certainly evidence that some FBI people hated Trump and wanted Hillary to win. Yet, on the other side of the argument, Trump kept hiring shady advisors, particularly Paul Manafort (who ran his campaign for a while), who has made his living being paid by Russian entities.
At the very least, I can understand why the FBI might want to know more. Yet we now know the name of the so-called "spy," a respected academic from Cambridge who never had access to anyone high up in the campaign.
Is this really spying? Of course, it would be nice to see an evenhanded approach to fact-gathering.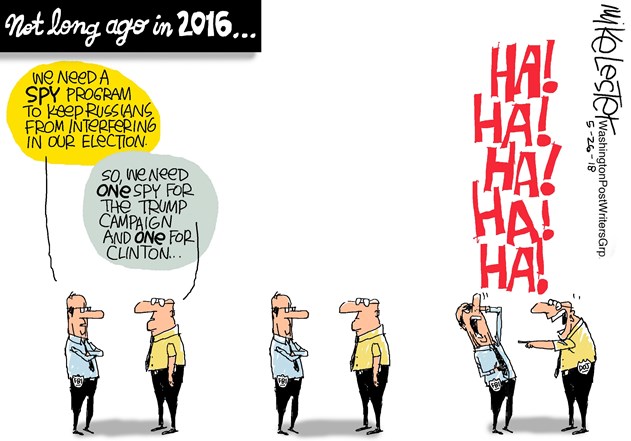 And by the way, wasn't it James Comey's reopening of the Hillary investigation right before the election that drew attention once more to her underhanded activities? While I have little to no respect for Comey, if he had been "all in" for Hillary, why would he have done that?
You can't watch CNN or MSNBC if you want a balanced understanding of what is real or imagined in these investigations. As far as those outlets are concerned, Hillary was cheated and Trump was the cheat.
Neither, though, can you get a fair and balanced presentation on some of the Fox News programs. There are some that are so pro-Trump that you never hear a negative word. We have dueling networks, each with an agenda of its own.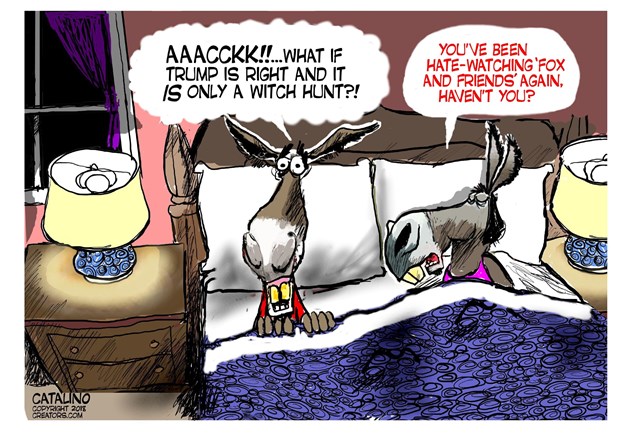 So I'm still withholding judgment on what is true and what isn't. I would advise others to do the same. Conservatives, don't just accept anything Trump says as being lily-white truth. He's not usually comfortable offering that; it goes against his entire personal history and character.
Yet, liberals (assuming there are any who read my posts), you have to be willing to accept that all these investigations may not go where you want, simply because there may be no foundation to the main accusations.
Democrats thought they had a winning approach for the upcoming congressional elections. Now, some aren't so sure.
There was all this happy talk among Democrats about a Blue Wave this November. Polls are now indicating that might not be in the cards for them after all.
If Republicans do manage to maintain control of both houses of Congress, they should breathe a huge sigh of relief and then get down to business. If they can ever figure out what their business is.