Ronald Reagan, with invaluable help from Margaret Thatcher and Pope John Paul II, brought the Evil Empire to its knees by the end of the 1980s. He was ridiculed by many when he said that communism and the Soviet version of it would soon be on the ash heap of history.
But he was correct.
The Berlin Wall fell in 1989. The USSR ceased to be officially on January 1, 1992.
For a while, it looked as if it might be a true, long-term change. Then came Vladimir Putin. Many Russians longed for the "strong man" to lead them; he was more than ready to fulfill that wish. He made them look back at an idealized—and false—image of the Soviet Empire. He made them think they could recover those supposed glory days.
While he doesn't say this is communism that he's reinvigorating, there are many similarities with the old heresy. Chief among them is the ritual of conducting phony elections. Russia just had another one. The Babylon Bee had a little fun with it:
Unfortunately, though, what's transpiring in Russia is anything but funny. In my book on Reagan and Whittaker Chambers, I pointed to the danger signs:
Expectations were high that Russia could be transformed into a stable commonwealth. The reality is that Russian nationalism came to the forefront and political leaders such as Vladimir Putin attempted to reestablish Russian power.

The Washington Post's former correspondents in Moscow authored a book detailing the demise of freedom in Russia. They wrote of the "Putin Project," which was an attempt to get rid of all challenges to his authority. The Post's review of the book noted that the authors have provided "a powerful indictment of Putin's years as president. In his obsessive quest for control and a stronger Russian state, Putin is undermining Russia's long-term future just as Soviet leaders did in their own repressive days."

The U.K.'s Daily Mail newspaper told of Russia's new claim to the North Pole. It spoke of Putin's "astonishing bid to grab a vast chunk of the Arctic—so he can tap its vast potential oil, gas and mineral wealth." One British diplomatic source warned, "'Putin wants a strong Russia, and Western dependence on it for oil and gas supplies is a key part of his strategy. He no longer cares if it upsets the West.'"

Meanwhile, The New Yorker, hardly a bastion of conservative thought, devoted an article to suspicious deaths of some of Putin's critics. Reagan, of course, could not have foreseen this turnabout; it simply reflects that times change while human nature remains unchanged.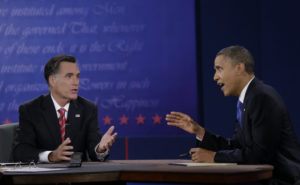 I recall the final debate between Mitt Romney and Obama in the 2012 campaign. Obama made fun of an assertion Romney made in a book, saying sarcastically,
"When you were asked, what's the biggest geopolitical threat facing America, you said 'Russia.' Not Al-Qaeda; you said Russia. And the 1980s are now calling to ask for their foreign policy back, because the Cold War's been over for 20 years."
It was a "zinger," according to the enlightened commentariat, that sealed the coffin on Romney's candidacy. But Romney was right to call attention to the fact that Russia was reemerging as a worrisome power.
Putin sees himself as a Stalinesque figure, and we need to take the threat seriously. What does he hope to achieve?
That restart may have already occurred.