I came across a new poll yesterday that I wish could have surprised me more than it did. It's only one poll, but, sadly, it mirrors what I have been observing in recent years, especially since the last presidential campaign. It's about people like me: white evangelicals. Here's what it shows: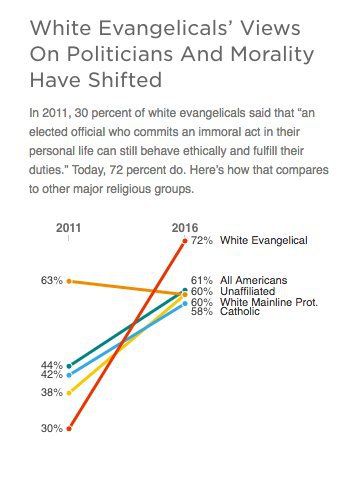 I can hear the response already: well, God can use people in public office who are not Christians. I agree. He can. But please show me any Scripture that encourages Christians to actively promote ungodly, immoral people as our political leaders.
My greatest concern is not for our national politics; rather, it's for the witness we are supposed to be to the world. We are supposed to be the salt that preserves what is righteous and good. We are supposed to be lights that reveal the path God wants all to follow.
I'll just let the apostle Paul end my blog today. Chapter 5 of Ephesians says what I think we need to hear:
But immorality or any impurity or greed must not even be named among you, as is proper among saints. . . .

Let no one deceive you with empty words, for because of these things the wrath of God comes upon the sons of disobedience.

Therefore do not be partakers with them; for you were formerly darkness, but now you are Light in the Lord; walk as children of Light (for the fruit of the Light consists in all goodness and righteousness and truth), trying to learn what is pleasing to the Lord.

Do not participate in the unfruitful deeds of darkness, but instead even expose them; for it is disgraceful even to speak of the things which are done by them in secret.

But all things become visible when they are exposed to the light. . . .

Therefore be careful how you walk, not as unwise men, but as wise, making the most of your time because the days are evil.