This is one of those mornings. I've written this blog for the last eight years. Why? What did I hope to accomplish? What have I accomplished?
There are times I simply want to walk away from it and never touch it again. Why bother with being called a racist because I accurately pointed to Michael Brown's actions before he was shot in Ferguson? Why take the arrows of being considered bigoted because I warn against the homosexual agenda?
And lately, why do I continue to highlight the dangers of a Donald Trump presidency and then get accused of helping Hillary Clinton get elected? All this does is divide people who formerly were united, right?
I've always been uncomfortable with confrontations. I would rather write about things we all agree on and never ruffle anyone. But—what would those topics be?
Sometimes I want to give this up and let the world go its own way. My little scribblings in a blog that has a limited audience aren't going to change anything big, are they?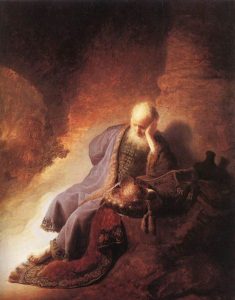 The problem, though, is that I have a Jeremiah issue. That's not to say I'm a prophet; God has never told me I have that gift. But I understand at least some of how Jeremiah felt at one point when he said in the 20th chapter of his book,
O Lord, You have deceived me and I was deceived; You have overcome me and prevailed. I have become a laughingstock all day long; everyone mocks me.

For each time I speak, I cry aloud; I proclaim violence and destruction, because for me the word of the Lord has resulted in reproach and derision all day long.
I mean, who wants to feel like that? But he continues,
But if I say, "I will not remember Him or speak anymore in His name, then in my heart it becomes like a burning fire shut up in my bones, and I am weary of holding it in, and I cannot endure it."
Jeremiah was calling his nation to repentance, yet he knew he probably wouldn't succeed in that mission. He wanted to stop telling them they were going the wrong way, but the Spirit of God within him wouldn't allow him to quit.
As I said, I'm no Jeremiah; my voice doesn't go out to the entire nation; most have no idea who I am, and I don't mind that at all. But God has called me to speak to whatever limited audience He gives me, and I am supposed to be faithful to that calling.
So, if you disagree with my warnings about our culture, the education crisis, and the political foolishness that abounds, that will just have to be. I will continue to write and say what I believe God has put on my heart.
If possible, though, I would hope your disagreements can be shared in a spirit of humility. My pledge is that I will never treat anyone who disagrees with me in an unchristian manner. I seek to communicate in the spirit advocated by the apostle Paul when he told us we are to speak the truth in love.
I guess I'm going to keep on writing.