This will be my final installment detailing the results of the Wade Center survey I conducted to find out how C. S. Lewis has influenced Americans of our generation. My previous post dealt with whatever further comments respondents wanted to make. Here are the rest of those for your edification. Perhaps you may identify with the sentiments expressed.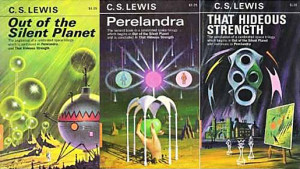 Beyond the purely intellectual appeal, Lewis and his writings also have impacted the emotions and encouraged Christians in their various struggles. "I am working through some very difficult personal and family issues at this point in my life, and Lewis's Space Trilogy has Ransom, its protagonist, facing challenges that are shockingly relatable, in spite of their obvious differences in nature," related another respondent. "I have no Unman to fight off, for example, but the nearly overwhelming burden of evil is clear and present. God has used these books in particular, as well as all of Lewis's work in general, to improve my life and my understanding of His holy nature."
One woman was willing to share her personal struggles and how staying in touch with Lewis made a huge difference in her life:
When I walked away from my Christian faith during my twenties and early thirties, Lewis was one of the few Christian authors I still trusted and could stand to read.

I was grieving, angry, and depressed, and when I reread The Chronicles of Narnia, the hope that shone through them was almost painful. Emotionally, it was as though a frozen and numb part of me began to regain feeling. Some years later, a passage from The Screwtape Letters was instrumental in helping me realize that I'd been angry at the church when, in fact, the church had been my truest friends and best support through very dark days.
Another had the privilege of spending some time at Lewis's home, the Kilns, and came away humbled by the experience. He and his wife sometimes read Lewis aloud to one another in the evenings. "I've never read a story, book, or essay by him I did not enjoy. Even his literary criticism is wonderful!"
One sentence from another respondent speaks of how Lewis has made God more real to him: "I find very moving the endings of Perelandra, Voyage of the Dawn Treader, The Last Battle, and The Great Divorce; where the veil is briefly pulled back and God's reality shines in."
Narnia, naturally, has impacted those who were first introduced to Lewis as children. One comment might express how many children have felt after reading those books: "As a kid when was sick I used to pray, 'God, I don't care if I die as long as you take me to Narnia.'"
There was one respondent, though, who went into greater detail on how Narnia affected, and continues to affect, her. She had much more to say than what is quoted here, but this selection adequately reflects her views:
Perhaps the most thrilling liberation of being a child in Narnia is Lewis's assertion that children can understand complex things. The problem with most children's TV shows, children's books, children's anything is that they work too hard to suit children. Books that oversimplify ideas so children can understand them teach children to think simplistically.

All sorts of ideas from Lewis's non-fiction work and from classical philosophers appear somewhere in Narnia. I discovered Aristotelian logic from Professor Kirke, Plato's Theory of Forms in Aslan's country, and the fallacious nonsense of an ad hoc rescue from Narnian dwarves. I love Narnia not only because I find things to ponder in it, but because it taught me how to ponder.

C. S. Lewis created a complex world, and it taught me to think complex thoughts. I am content in Narnia not because I am comfortable, but because I am uncomfortable. It stretches me—my leadership, my character, and my understanding. It acknowledges not that I am a grown-up, but that I am a person, and therefore capable of maturity regardless of my age.
While that excerpt from a more lengthy comment focused entirely on Narnia, another respondent sought to explore the wider scope of Lewis's writings:
C. S. Lewis manages to express in many unique and wonderful ways ideas about Christianity that are difficult to describe. Narnia tells of a lion whom you fear, but is good—we should fear God, but love God.

Screwtape shows how devious and unrelenting (even in the face of conversion of the subject) Satan can be in the temptations of a person/Christian. In Mere Christianity, Surprised by Joy, "The Weight of Glory," etc., Lewis expresses truths about Christianity in practical and meaningful ways that are easy to understand and remember. I love the variety of his writings.
Yet it is not only the writings of C. S. Lewis that have captured the hearts of many; it is also the man himself. As one wrote, "We've all heard the question of what single person, living or dead, we would most like to meet. I can name dozens of intriguing figures I would love to meet, but none so much as Lewis."
Another expressed the identical sentiment, but in a different way, when she shared this hope: "I long to go with others on a walking tour in heaven with Jack (as he used to do with Warnie and others) and have a good lengthy chat with this man who for years now has seemed like a good, dear friend."
I hope this series has been both spiritually and intellectually stimulating. And might I add: please, if you think of it, pray that my book-length manuscript on Lewis's impact on Americans will find its publisher. Thank you.