Baltimore is burning. What, exactly, is happening? There are many layers to this; most people focus on the superficial ones, the ones most clearly visible, but there are foundational problems that have led not only to this particular incident, but to an atmosphere like this that is sweeping our nation.
The top layer has to do with the arrest and death of a young black man, Freddie Gray. We still don't have all the facts about what occurred. The investigation is apparently still ongoing. However, the lack of information is part of the problem. No one knows what led to his arrest in the first place. By all accounts, he was not actively involved in wrongdoing. Yet because he ran away from the police, he was arrested. While in the police van, something happened; he was so severely injured that he died shortly afterward.
Yes, that's suspicious beyond question. Yet there have been no formal accusations against the officers, no explanation as to what took place in that van, and this gives the appearance, at least, of a coverup.
Protests began peacefully, but by last Saturday, they began to change. As violence broke out, another top layer to this episode was added. Baltimore's mayor, Stephanie Rawlings-Blake, in her desire not to crack down immediately on the emerging violence, actually made a public statement that she had ordered the police to give "space to destroy" so that the protesters wouldn't be harmed. Since when does a government provide a license to destroy? Later, she angrily insisted she hadn't said what she really said, and that the media were misinterpreting her statement. Well, if that's the case, the protesters who easily turned into rioters "misunderstood" her as well, and decided they had the "liberty" to turn this into large-scale violence.
Yesterday, that's exactly what happened. As the school day ended, students, urged on by comments in social media, began to riot. Police were attacked, many were hurt, with one policeman described as "unresponsive." I haven't yet heard an update on his condition. Businesses in the community, largely owned by minorities, and the places that provide jobs for the people in the community, were torched. Police cars also were set on fire; wholesale anarchy prevailed.
The police simply weren't prepared for this. Did that have something to do with the attitude emanating from the mayor's office? We now hear they were told to stand down, to hold a perimeter, but not get too involved in stopping the looting, burning, and outright riots. Mayor Rawlings-Blake was missing in action for many hours before finally facing the media. Utter chaos reigned, and the entire city is now on a virtual lockdown.
Those are the facts of the top layer of the problem. But it all goes so much deeper.
Naturally, some want to turn this into a racial issue. Yet keep in mind that the mayor is African-American and the police force, unlike in Ferguson, Missouri, is nearly half-black, half-white. No, the problem is greater.
One has to know history and government philosophy to realize what has happened over the decades to lead us where we are today.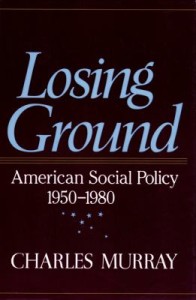 As well documented in Charles Murray's superb book that was published in the 1980s—Losing Ground—the black family was intact prior to the policies of the Great Society, which pledged to end poverty in America once and for all. Government largesse began on a large scale, making the government the source of sustenance for the underprivileged, and replacing the father in the home. Marriage in the black community was practically destroyed. Statistics now show more than 70% of children born in these minority communities grow up without a father. Some people don't mind that; they think that's an "improvement."
They are wrong.
Poverty increases exponentially in single-mother homes. Lack of discipline in the lives of the children becomes commonplace without a stable environment that is based on a two-parent family. Couple this with an education system that no longer educates, and the problems increase.
On the political side, what is now occurring in Baltimore is hardly the fault of conservatives or Republicans. That city, as most cities in America, is, and has been for many years, controlled by the Democrats. What we see is the fruit of policies promoted by the philosophy of government championed by progressives. In one sense, Baltimore is the progressive utopia. It should be a lesson to us all.
But now go one layer deeper still. Why do we allow all of this? What is the root cause? It's simply this: we have abandoned our Biblical basis for thinking and acting. Our culture—led by the media, the entertainment industry, the education system, and the progressive politicians—has rejected eternal concepts of right and wrong delivered to us by God. We have set up our own gods, devised our own morality, come up with our own "solutions," and promised our own version of heaven on earth.
When a society abandons that which is designed to preserve it, last night in Baltimore is one example of the result. The Biblical principle still holds: we reap what we sow. And we have been sowing some poisonous seeds for quite some time.
So, yes, let's do what's necessary to handle the top layer of issues: indict anyone, policeman or rioter, who has violated the rights of another. But we cannot stop there; we need to return to our Biblical roots. If we don't, we will only be putting bandages on the cancer that is eating away at us. We are a culture in distress, and only the pure Gospel message will change that.