Barack Obama's pledge to fundamentally transform America wasn't an empty promise/threat. While this transformation has been obvious to anyone paying attention over the past 4+ years, sometimes it takes a really foolish act—like closing the WWII Memorial—to highlight his basic break from all of American history and tradition.
Whether you realize it or not, we are now living in a new America under this president. It's an America we've never seen before:
Those who normally would be seen as patriotic citizens are being maligned as dangerous to the New Order:
Politicized bureaucrats have been emboldened to carry out what was already in their hearts. Occasionally, one is called on the carpet for such activities, but even when one is forced to resign—like Lois Lerner, the instigator at the IRS of the investigation of conservative groups—she gets to live with a comfortable pension, paid for by many of those she targeted: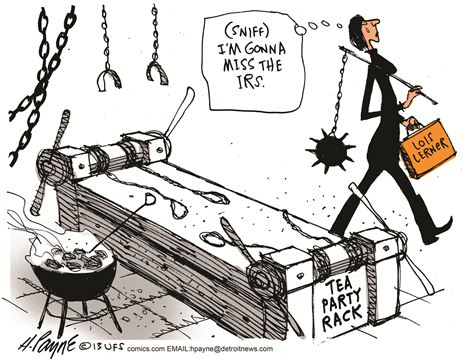 The comic strip Dilbert entered the fray recently, showing how one character fought back:
I think that's pretty eloquent humor, and humor remains one of our best weapons against budding tyranny. One thing tyrants can't stand is to be made fun of. Yet this is also serious business. It's time to take seriously the threats to life, liberty, property, and the pursuit of happiness. Now where have I heard those words before? Oh, that's just an old American document that has no relevance in the New Order.
It's well past the time to retire the New Order.