Regular readers will know by now that I periodically present what I call Snyderian truisms. These are statements that I consider to be general principles that apply to all of life. We're now up to #7:
The Lord is always more interested in developing character than providing a quick fix.
This is not a "fun" truism. Most of us wish it could be modified. We live in a society of quick fixes; we don't like lingering problems. For those of us who have put our trust in Christ, we are still not immune to the quick-fix mentality. "Lord," we pray, "please take away this disturbance in my life. Give me a smooth path." When the trouble doesn't go away immediately, we are faced with a choice: we can pout, feel sorry for ourselves, and blame God for not caring, or we can be mature. Sorry to be so blunt. But I know whereof I speak; I'm experienced on both sides of that equation. On those occasions when I respond maturely, I can testify this is truly God's way.
When I was a young Christian, I embarked on a Scripture memorization exercise in which I pulled out passages from each chapter of the gospels and the letters of the New Testament. That discipline has proven valuable to me later in life, as those verses now come more readily to mind. One of my memorized passages was from Romans, chapter 5:
We also exult in our tribulations, knowing that tribulation brings about perseverance; and perseverance, proven character; and proven character, hope; and hope does not disappoint, because the love of God has been poured out within our hearts through the Holy Spirit who was given to us.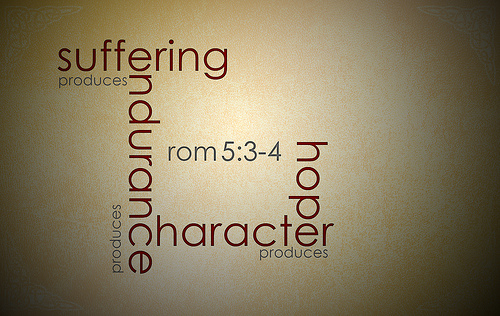 A similar passage—another one I memorized—is found in the book of James, where we're instructed,
Consider it all joy, my brethren, when you encounter various trials, knowing that the testing of your faith produces endurance. And let endurance have its perfect result, so that you may be perfect and complete, lacking in nothing.
I admit I don't automatically rejoice whenever a trouble comes along, but the Lord is continually teaching me to look beyond the outward problem and allow Him to work through that problem to create more of His character within me. Having one's character shaped by God is not always a pleasant experience, at least at first. But if we endure the current unpleasantness, we eventually see the result, and we recognize God knows what He's doing.
Nothing is more valuable than growing in the character of Christ. The sooner we submit to His shaping, the greater insight we'll receive into His ways—and knowing Him is what life is really all about.