I write often about the drift of our culture into acceptance of a type of sex God forbade. For many people, this whole issue is simply a matter of "democracy"—let the people decide what they want. When you introduce the moral element, they tell you that's irrelevant. All that matters is that we are devoted to popular sovereignty. As a historian, I know that term well. The last time it was front and center in the political debate was prior to the Civil War. Popular sovereignty was supposed to solve the quandary of slavery. Let the people of the new territories decide for themselves if they want slavery or not. Stephen Douglas, the Illinois senator who championed this approach, infamously said slavery was not a moral issue.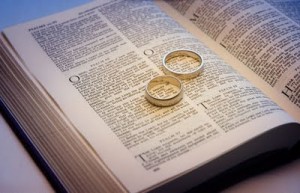 Well, I can't help but frame it morally. At its foundation, the push for same-sex marriage is a clear indication of our rebellion against the righteousness of God and His law. It is a perversion—and I use that word advisedly and with forethought—of the gift of sex. Only a people firmly rooted in Biblical truth can prevail against this headwind. Are we no longer that people?
Liberals/progressives, whose outlook is primarily secular, think opposition to homosexuality is foolish. Unfortunately, they are joined in this view by a growing number of those who continue to call themselves Christians. They adopt most of the progressive political agenda and attempt to stamp it with God's favor. They are doing a disservice to the gospel, and the God, they claim to represent.
Then there are some conservatives who are abandoning the field of battle. Most often, that's because they are little different than their erstwhile foes at the other end of the political spectrum. How can that be? They are basically secular also; their conservatism is not based on solid Biblical principles. So when the culture shifts, they have no anchor to hold them to their position. They attempt to mix political conservatism with moral relativism. It's not a good mixture.
One particular strand in the conservative movement is more libertarian than conservative. That group has never been wedded to Biblical morality anyway. They don't want the government telling anyone what to do in the moral realm. Many of them support the mislabeled pro-choice position on abortion and have no problem at all with homosexuality. Their presence in the conservative coalition waters down its moral foundations.
The only saving grace in modern American conservatism, and in our politics in general, is the part of our populace that brings its Christianity to bear on our culture and government. They are the ones Jesus was referring to when He said,
You are the salt of the earth; but if the salt has become tasteless, how can it be made salty again? It is no longer good for anything, except to be thrown out and trampled under foot by men.

You are the light of the world. A city set on a hill cannot be hidden; nor does anyone light a lamp and put it under a basket, but on the lampstand, and it gives light to all who are in the house.

Let your light shine before men in such a way that they may see your good works, and glorify your Father who is in heaven.
Salt preserves; light shows the way. Those in the church who have succumbed to the spirit of the age are the tasteless salt; they are no good for anything in this struggle. The responsibility therefore falls on those who still understand that truth is truth in all ages, and that it never changes. We need to preserve whatever remains of goodness in this land, and we need to be the ones who shine a light on the right path to take. Are we up to the challenge?