Did you ever have to write an essay when you went back to school in the fall detailing what you did during the summer? I've been away from the blog for a week now, so I thought I'd provide the reason: I was on my summer vacation. What did I do?
I was in the Washington, DC, area for a family reunion. Having lived just outside DC for thirteen of my adult years, I was glad to go back and see some of my favorite places again. Some things were new.
The Capitol Visitor Center hasn't been in operation too long.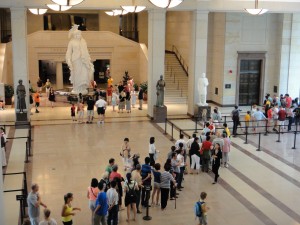 Not only is it beautiful, it is a tremendous improvement for tourists. Previously, if you wanted to see the Capitol, you had to wait outside in a line, no matter what the weather. The Visitor Center is an underground facility directly connected to the Capitol, and it offers an impressive waiting area. Of course, wait you must. I had to stand in line for an hour to sit for a few minutes in the House of Representatives, but I did get to view some fine presentations by congressmen, even though one of them was Barney Frank. So, most of the presentations were fine.
One more new addition to the Capitol since I was there last was this fine statue of Ronald Reagan, located in the Rotunda.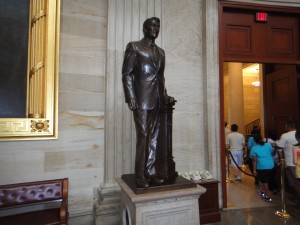 His body lay in state here back in 2004, and the memorial service was moving. He's now a permanent fixture, as well he should be. He's finally getting his due.
When I taught at Patrick Henry College, I used to go to the Capitol to teach on occasion, parking right on the Capitol grounds. It was a privilege to share with congressional staffers the Biblical roots of American history and government. Last week, though, I was just one tourist among thousands.
Being able to visit the Library of Congress also was a highlight. I spent many days there in the 1980s doing research. It has one of the most beautiful interiors of any building in Washington. For me, it brought back memories of finding all the original writings of Whittaker Chambers, as well as all the articles written about him back in the 1940s and 1950s. This was before the Internet, of course, so now you can find most of that online, but I still like the thrill of doing the research and handling the documents themselves.
I've been to Ford's Theater many times, but not when I was teaching my own Civil War course. Now that it has become one of my specialties, visiting Ford's this time was more meaningful. The tragedy of April 14, 1865, probably changed the course of American history for the worse. Peering into the box where Lincoln sat is sobering. Most people don't know that John Wilkes Booth's plot was not only to kill Lincoln but also Vice President Andrew Johnson and Secretary of State William Seward simultaneously. He almost pulled it off. The museum downstairs is excellent as well.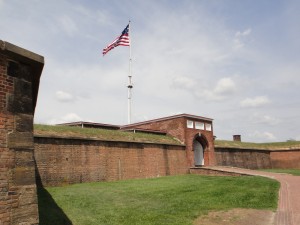 On the way to the airport to fly home, we had the opportunity to stop at a historic site I'd never seen before—Ft. McHenry. Even though I'd lived close to it for all those years, I'd never gone there. Yet that fort tells a significant American story. After burning Washington in 1814 during the misnamed War of 1812, the British then turned toward Baltimore. The only thing that stood between them and the burning of that city was this fort. They bombed it all night long. An American watching the bombardment anxiously waited for the morning to see if the flag at the fort still flew. He rejoiced when he saw it waving "by the dawn's early light." Francis Scott Key was so elated, he wrote a song. He called it "The Defense of Ft. McHenry," but we know it now as "The Star Spangled Banner."
Ft. McHenry has been preserved for later generations. And the flag still waves.
My vacation was short, but what matters is how much quality you can pack into a few days. While there were many other places I would have liked to revisit, they can wait for now. What I did see was well worth the time. That's how I like to spend my summer vacation.