The attempt to reverse our nation's plunge into moral and fiscal insanity is on. This is a war [pardon my "violent" language] and there are many battles to be fought on multiple fronts. Republicans in Congress are doing their part. Governors such as Scott Walker in Wisconsin are as well.
Yesterday, the House of Representatives passed a number of welcome measures:
The Pence Amendment, defunding Planned Parenthood, passed 240-185.
The King Amendment, defunding Obamacare implementation, was approved 241-187 [three additional anti-Obamacare provisions also succeeded].
The Poe Amendment, blocking funding for EPA enforcement of greenhouse gas regulations, was even more popular, passing 249-177.
House Republicans are doing what they were elected to do. The problem, of course, is that these measures now go to the Democrat-controlled Senate. There is hope that some of them will survive, but they will undoubtedly die on the president's desk.
Yet, as we are told in Scripture, we should not despise the day of small beginnings. It can lead to greater things.
Meanwhile, Wisconsin's new Republican governor, Scott Walker, has virtually walked into a maelstrom. His state is a fiscal basketcase after years of Democrat control. He was elected to change things. He and his majority-Republican Senate were about to do that when the firestorm erupted. What was their crime? They concluded a couple of things: first, collective bargaining for public employees is not a good idea; second, those same employees, to help with the fiscal crisis, ought to contribute more to their pension plans and healthcare. Currently, they don't give nearly as much to them as their counterparts in the private sector.
The response, particularly from teachers, who decided that protesting was more important than doing their jobs, has been disturbing. The protests are shrill, demanding, and even threatening. Law enforcement has had to work with the Republican legislators to protect them from the ire being directed at them. Some protesters are showing up at legislators' homes and scaring family members. The signs some protesters are carrying also speak to their state of mind:
By the way, that's supposed to be Gov. Walker. Cute, huh? Connecting any and all conservatives with Hitler has become standard operating procedure. And just to show that it wasn't a lone loony, here's another: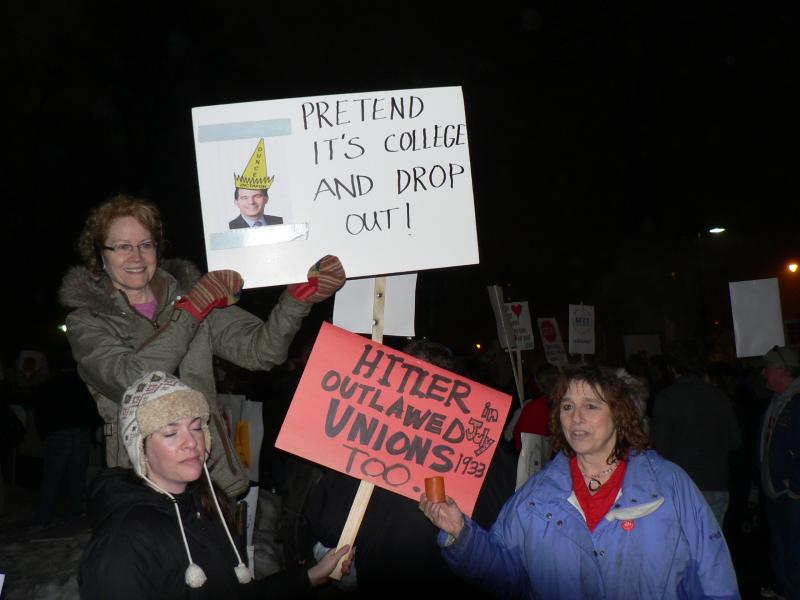 These are teachers. Any real questions about what they're teaching the children of Wisconsin? Would you trust your children to their care and nurturing?
In case you might think these are simply spontaneous outbursts of patriotic rage, it's also no real secret that the Democrat party is behind this well-orchestrated mob. Obama's own group, Organizing for America, is in the thick of organizing this portion of America for their boss who, by the way, described the Republicans' proposed actions as an "assault" on the unions.
Should public employees even have unions? A new poll says 64% of respondents don't think so. Even 42% of Democrats don't agree that this type of union should exist. That 42% is in step with Franklin Roosevelt, who stated categorically that government employees had no right to unionize. That's pretty remarkable, considering that FDR's biggest voting bloc was unions.
What of the Democrats in the Wisconsin legislature? Well, the fourteen Senate Democrats not only refused to show up for work [keep in mind who pays them to do so], they fled the state, hiding out at a resort in Rockford, Illinois. They did this because there are nineteen Republicans in the Senate and it takes twenty senators to pass a bill.
This is about as outrageous as it gets. All these "fugitives" should be removed from office for dereliction of duty. Their goal is simply to take the legislative process hostage and hope that the pressure of the protests will cause the Republicans to back down.
Thus far, the Republicans are holding firm, and a rally at the Wisconsin capital is scheduled for today to provide moral support for their cause. [Note: supporters of the Republican bill have to rally on weekends because they show up for work on weekdays.] In 1981, President Reagan fired more than 11,000 public-sector employees in one day when they refused to report for work—the air traffic controllers. He showed courage in doing so. That same brand of courage is required now to deal with those who neglect their jobs, be they teachers or legislators. The first can be handled by the state government; the second by the voters.