I don't usually put a lot of personal photos on this blog, but I will make an exception today. Last night was a great dinner for the Southeastern University College Republicans. I'm faculty sponsor for the organization and am proud [in the proper sense] of their commitment and desire to make a difference.
Our special speaker for the dinner was Dennis Ross, who is the leading Republican candidate for Congress in our district. He spoke about the character qualities we need and the key principles for which we have to stand to get the country back on track. Mr. Ross poses in this picture with the leadership of College Republicans—and their faculty sponsor, of course.
I particularly appreciated Mr. Ross sharing that his Christian faith was the foundation for his desire to serve in Congress.
A good number of the College Republicans were at the dinner [which was attended as well by many Republican leaders in the community of Lakeland]. Most of the college students who were at the dinner are pictured below.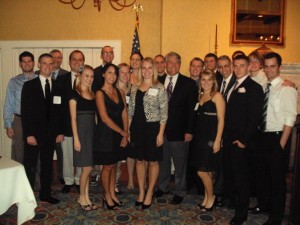 It's a distinct privilege for me to be associated with this group. Out of it will come many Christian leaders. I do thank God for the opportunities He has provided me to teach His principles to college students—and to see the fruit of that labor.