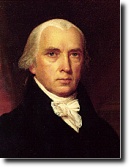 Great Quotes By: JAMES MADISON
Memorial and Remonstrance, 1785:
Before any man can be considered as a member of Civil Society, he must be considered as a subject of the Governor of the Universe.
Federalist 10, 1788:
The two great points of difference between a democracy and a republic are: first, the delegation of the government, in the latter, to a small number of citizens elected by the rest; secondly, the greater number of citizens, and greater sphere of country, over which the latter may be extended.
Federalist 51, 1788:
Ambition must be made to counteract ambition. The interest of the man must be connected with the constitutional rights of the place. It may be a reflection on human nature, that such devices should be necessary to control the abuses of government. But what is government itself, but the greatest of all reflections on human nature? If men were angels, no government would be necessary. If angels were to govern men, neither external nor internal controls on government would be necessary. In framing a government which is to be administered by men over men, the great difficulty lies in this: you must first enable the government to control the governed; and in the next place oblige it to control itself.
Federalist 57, 1788:
The aim of every political constitution is, or ought to be, first to obtain for rulers men who possess most wisdom to discern, and most virtue to pursue, the common good of the society; and in the next place, to take the most effectual precautions for keeping them virtuous whilst they continue to hold their public trust.
Speech in the Virginia Ratifying Convention, 6 June 1788:
The powers of the federal government are enumerated; it can only operate in certain cases; it has legislative powers on defined and limited objects, beyond which it cannot extend its jurisdiction.
Letter to Edmund Pendleton, 21 January 1792:
If Congress can do whatever in their discretion can be done by money, and will promote the General Welfare, the Government is no longer a limited one, possessing enumerated powers, but an indefinite one, subject to particular exceptions.
"Property", 27 March 1792:
A man has a property in his opinions and the free communication of them. He has a property of peculiar value in his religious opinions, and in the profession and practice dictated by them. He has a property very dear to him in the safety and liberty of his person. He has an equal property in the free use of his faculties and free choice of the objects on which to employ them. In a word, as a man is said to have right to his property, he may be equally said to have a property in his rights.
"Property", 29 March 1792:
Conscience is the most sacred of all property; other property depending in part on positive law, the exercise of that, being a natural and unalienable right.
Letter to W. T. Barry, 1822:
A popular Government, without popular information, or the means of acquiring it, is but a Prologue to a Farce or a Tragedy; or, perhaps both. Knowledge will forever govern ignorance: And a people who mean to be their own Governors, must arm themselves with the power which knowledge gives.
Letter to James Robertson, 20 April 1831:
With respect to the words, "general welfare," I have always regarded them as qualified by the details of power connected with them. To take them in a literal and unlimited sense would be a metamorphosis of the Constitution…[that] was not contemplated by the creators.
---
Selected by Dr. Alan Snyder