In two weeks, all the faculty meetings begin; in three weeks, classes start once more. My summer of research, reading, and preparation for the new semester will come to an end. I will begin my 30th year of teaching university students.
One of the courses I'll be teaching this fall is the one I always teach in the fall: my basic American history survey course that covers America from its colonial days through Reconstruction after the Civil War.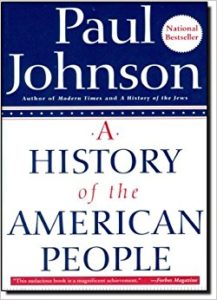 I've used one book for the survey course continually throughout my 13 years at Southeastern, and I would hate to ever set it aside. British historian Paul Johnson's A History of the American People is unique. It's not your typical textbook put together by some kind of collaboration between professional historians and/or a committee that seeks to dumb down history reading and make it as staid and unenjoyable as possible.
Johnson has wit and is not afraid of offering his interpretation on various events in the history of America. Is he fair? After all, he's British and may have hard feelings about such things as the American Revolution (aka, The American War for Continued Self-Government) and the War of 1812.
Not at all. He says there was a world of difference in leadership during that Revolution between the Mother country and its colonies. He praises the genius of many of America's Founding Fathers.
While some students struggle with Johnson, I don't mind trying to stretch them. It's good for them to read a truly worthwhile writer.
The other book I use is now out of print but I'm told there should be enough copies this time around (I pray that's the case). James Hutson's Religion and the Founding of the American Republic emanates from the Library of Congress (where Hutson works) and performs the marvelous task of revealing to students the sources from which we can identify just how significant Christian faith was to the majority of people during that era.
It's a wonderful complement to the Johnson book, helping students see how Christianity formed the basis for culture and law at that time. Given the drive to excise that portion of our heritage from the teaching of history, it offers a great corrective. I hope the students appreciate it.
Teaching a survey course can be fun and exhilarating when students respond; it can be the worst of all worlds if they don't care. I try to be consistent in my teaching methods and create interest, even if it doesn't seem to exist at first. Sometimes the students catch that spirit; sometimes they don't.
I'll be teaching two sections of the course, back to back each Monday, Wednesday, and Friday. It will be interesting to see if there is a qualitative difference in the level of interaction from one section to the other. My prayer is that students in both sections, even though they are comprised of hardly any history majors, will go away from this semester with a deeper knowledge and appreciation of what occurred in the founding of this nation.
That's one of four courses I'll be teaching. I'll explain the others in future posts.