I love learning. I'd better love it, seeing as how I live in an academic environment. Reading, studying, going deeper into a knowledge of history and government naturally draws me. Yet that plunge into knowledge can never be divorced from the proper heart motive—love of God and His ways.
The temptation for people like me is to think that we have become experts, which can then border on arrogance, which is decidedly opposed to God's will for our lives.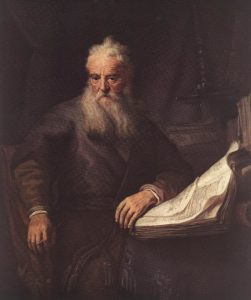 It's always good to come back to a certain passage in I Corinthians, where the apostle Paul offers this timely reminder:
For the word of the cross is foolishness to those who are perishing, but to us who are being saved it is the power of God. For it is written,

"I will destroy the wisdom of the wise, and the cleverness of the clever I will set aside."
If we ever begin to think that God's way—the way of the cross—is just too simplistic or beneath us, we are straying from the path. Paul continues with this stark message:
Where is the wise man? Where is the scribe? Where is the debater of this age? Has not God made foolish the wisdom of the world?

For since in the wisdom of God the world through its wisdom did not come to know God, God was well-pleased through the foolishness of the message preached to save those who believe.
Wait a minute. Am I not to strive for wisdom? Am I not to be a dedicated student/scribe? Shouldn't I sharpen my skills of debate? I don't think this passage means we are to put away those aims. What it does do, though, is remind us to keep our priorities straight. He concludes,
For indeed Jews ask for signs and Greeks search for wisdom; but we preach Christ crucified, to Jews a stumbling block and to Gentiles foolishness, but to those who are the called, both Jews and Greeks, Christ the power of God and the wisdom of God.

Because the foolishness of God is wiser than men, and the weakness of God is stronger than men.
God has called me to be one of His in the academic world. I will fulfill that calling only if I put first things first. I intend to continue doing that.
In this blog, I comment constantly on the ways of the world, whether in politics, education, morality, or the culture in general. As long as I do so with the proper perspective, recognizing the highest message of all—Christ crucified for sinners—I will be carrying out His will for my life.
I just thought that was a reminder worth sharing today, no matter what your calling may be. Jesus Christ and His overwhelming love for sinful men is the cornerstone for everything we say or do.