Fair and balanced. I'm using that phrase today to make it clear that I am doing my best to be impartial in my analysis. An honest critique should always be acceptable to those who value honesty.
Let's start with the Democrats.
They have been in an almost-insane froth ever since the election, convinced that Hillary should have been the easy winner and that only some kind of massive corruption could be responsible for the loss.
They have focused, along with their media allies, on Russian influence on the election despite the complete lack of evidence that even one vote was tampered with and that no amount of influence from Russia made any difference.
They are a party bereft of anything beneficial to offer America, choosing instead to promote abortion, same-sex marriage, and other moral aberrations (not to mention their pervasive "progressive" socialism).
Some of their more fanatical adherents believe there is only one solution: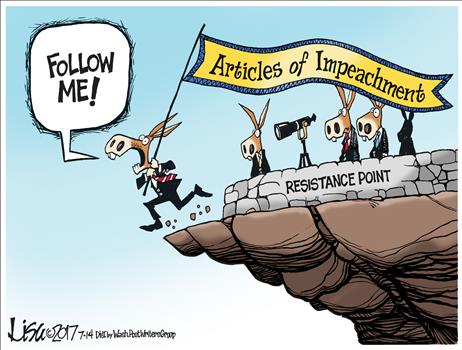 If successful, of course, that would give us President Pence. Maybe they haven't thought through their strategy carefully, as that would put a more principled conservative in charge.
The Russia thing should have gone away by now if not for the foolishness of Trump and his family. Trump Jr. jumped on the opportunity to meet with a Russian who said he had dirt on Hillary and could help tilt the election toward his dad.
Anyone with any political sense at all would have avoided all such contacts; in fact, anyone with any moral sense at all would have reported the invitation to the proper authorities. Russia is not our friend.
It is an established fact that the meeting took place. The rationale for why it is no big deal is that it didn't really offer anything of value to use against Hillary. So intent means nothing?
More than one political cartoonist picked up on that cookie jar theme:
Again, to be fair and balanced, the media had an entirely different level of interest in this fiasco than in previous ones:
But that still doesn't erase the fact that Trump Jr. did a very stupid thing, thereby opening up the inquiry further. The whole Russia probe is partly responsible (only partly, though) for the inertia we see on the policy front:
The other reasons for inertia lie with Republican timidity in Congress (a topic to be covered in an upcoming post) and with Trump's own unwillingness to concentrate on what is more important than his own ego. He may be willing to sacrifice everyone just to make sure he comes out ahead:
Why do I say that?
Just look at how he treats people in his own administration. He hired Anthony Scaramucci as his new communications director against the advice of his top-level officials (but apparently with the approval of his family) without informing Sean Spicer, the man who has been burdened with carrying the communications load for a president who keeps changing his rhetoric and undermining Spicer's efforts.
Spicer resigned, and one can understand why. Scaramucci's task will not be easy; he may be favored right now, but one false step can change that.
Scaramucci, by the way, is on record as pro-abortion, pro-same-sex marriage, and pro-gun control—a funny way to help promote the conservative agenda.
Trump has now begun lashing out against Jeff Sessions, his attorney general, for recusing himself from the Russia investigation. Sessions did the right thing with his recusal, but Trump is angered by the decision. I predict Sessions will be forced out shortly, despite the fact that he was the first senator to endorse Trump and has been loyal through all of Trump's antics.
Shouldn't loyalty go both ways?
One of the rumors circulating is that Trump may replace Sessions with Ted Cruz. My advice? Senator Cruz, don't ruin your future by agreeing to join this circus.
Reports now indicate (and I'm not relying on "fake news" sources for this) that Trump's entire cabinet is in turmoil over the way he is treating Sessions, as they wonder who will be the next to be thrown under the proverbial bus. Secretary of State Tillerson, by all accounts, is ready to throw in the towel, frustrated by how Trump family members' views have priority over his with respect to foreign relations.
Both Reince Priebus and Steve Bannon are now apparently on the hit list, despite the fact that they are not exactly on the same page. All that matters is complete loyalty to the president regardless of what he does.
In short, this appears to be an administration in administrative chaos, caused by the super-thin-skin of the man in charge.
Thus far, one key individual has escaped Trump's attempt at public humiliation: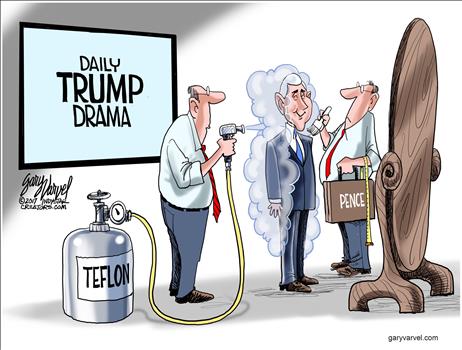 How long that will last is anyone's guess.
Both Democrats and Republicans seem to be dysfunctional. This does not bode well for our political health.