I've just returned from two weeks in the UK—only England, specifically (except for one short dash into Scotland for supper)—helping lead a study abroad trip with SEU students. This was only my second time in England, the previous excursion being twenty years ago. So I was looking forward to this, of course, and my expectations were met.
I drove a Jaguar (yes, you read that correctly) all over the land, from Dover by the White Cliffs on the southern coast to Hadrian's Wall in the far north. By the mercy of God, we all survived those one-lane country roads where you never knew if a car was coming from the other direction just around the next bend.
Sorry, but I forgot to take a photo with my Jaguar.
Our first stop was Dover, a medieval castle with underground tunnels that were used extensively during WWII to ensure that a Nazi invasion wouldn't take place.
Winston Churchill, as prime minister at that time, visited Dover as he shored up Britain's defenses. One iconic photo has him emerging from the underground tunnels, showing his usual firm, confident visage:
We were able to explore those tunnels and learn how significant they were to the war effort.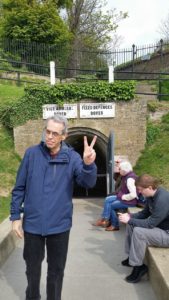 The entrance is the exact spot pictured above, so I did my best to be Churchillian as we awaited our tour.
No photographs were allowed inside the tunnels, so I can't show you exactly what we viewed, but the key moment for this strategic spot occurred from May to June 1940, as the trapped British forces in Dunkirk, France, had to be evacuated while under heavy fire from the Nazis.
At the time, pessimism reigned, with British authorities figuring that if they could save even a small portion of the army, they would have to be satisfied with that.
That's when the miracle at Dunkirk, as many termed it, happened. Small boats from all over England undertook numerous and hazardous cross-channel trips to rescue the trapped soldiers. Far exceeding all expectations, more than 330,000 troops were evacuated and able to continue resistance against Nazi Germany.
We also were able to tour the castle and put ourselves back into the medieval world it represented. Observe this banquet room, for instance: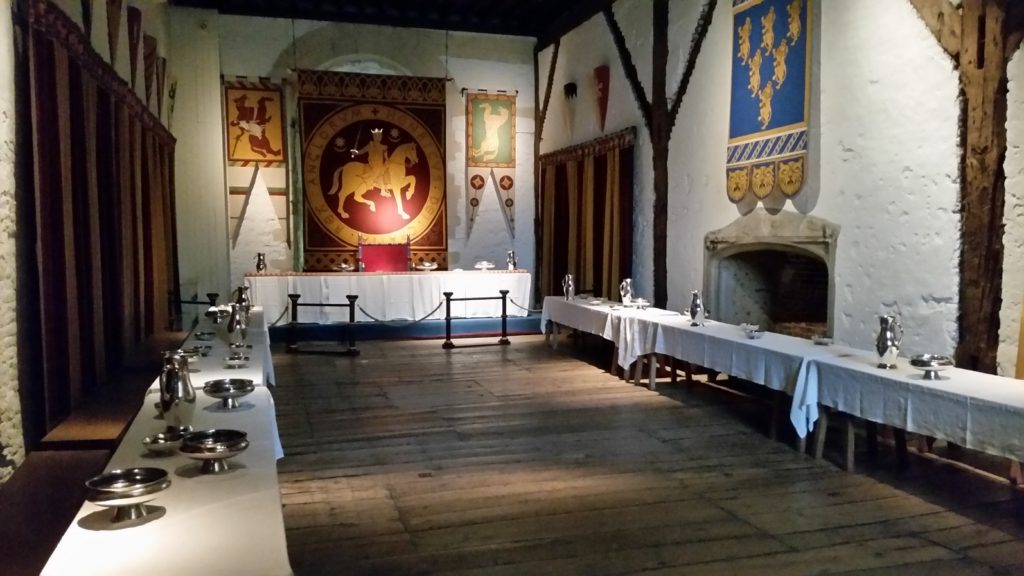 Or how about this throne with a rather imposing figure reigning temporarily?
We concluded our Dover experience with a visit to the White Cliffs, where I stayed conveniently back from the edge.
The Dover visit was accomplished on almost no sleep on the flight over, followed by driving there from Gatwick Airport in London. Yet it was a great start to a fulfilling tour of the island that provides America with a lot of its lineage, both politically and culturally.
I'll continue to offer highlights from this trip in the coming days: cathedrals, historic sites, and a visit to C. S. Lewis's home, the Kilns, in Oxford.