Neil Gorsuch's nomination for the Supreme Court is coming to a vote in the Senate shortly. Democrats on the Senate Committee who grilled Judge Gorsuch came our uniformly against him. Chuck Schumer, the Democrat leader in the Senate, says his party will filibuster the nomination despite Gorsuch receiving the American Bar Association's highest rating. That organization is not exactly ruled by conservatives.
So why the filibuster tactic? What is Gorsuch's crime? Could it be that he simply believes judges should interpret rather than create law? Could it be that he thinks there's something called the Constitution to which he is accountable?
Schumer and his fellow Democrats are being 100% political . . . and 100% childish and irresponsible.
Let's be honest: Democrats don't care one bit about constitutionality. They're all about doing whatever they deem best while ignoring the rule of law. And let's go one level deeper: they want to continue to allow unborn children to be slaughtered and Biblical morality overall to be excised from American society.
Now, they would never say that. But their actions make it clear that's where they're coming from.
Back in 2013, then-Majority Leader Harry Reid stopped all filibusters on cabinet-level appointees and federal judge appointments below the Supreme Court. He didn't want to have to round up 60 votes to stop debate. That rule-altering precedent was fine to Democrats at that time.
Now that the Republicans are on the verge of doing the same thing for the Gorsuch nomination, we hear cries of "rule of law" from the very people who normally are impervious to such concerns.
For some silly reason, the move to allow a majority vote to stop debate has been called the "nuclear option." Forgive me if I think such a decision is somewhat short of a nuclear anything. Use the word "nuclear" in relation to something and you can raise all kinds of hysteria.
Democrats should think twice before employing a filibuster on a highly qualified Supreme Court nominee. Of course, saying they should think twice is giving the benefit of the doubt that they've thought once already.
The Democrat party has become the refuge of every unconstitutional and immoral public policy. It is filled with radicals who would like to transform America into their idea of a non-Christian utopia. It didn't used to be this way.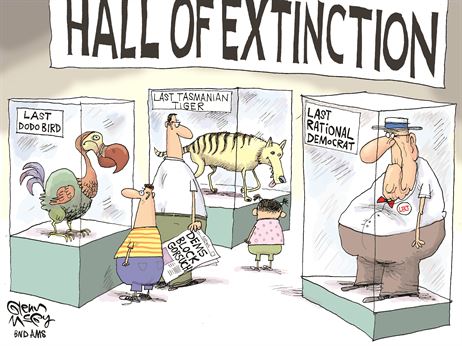 When this latest Senate battle is finally over, I will heartily welcome Neil Gorsuch to the Supreme Court. May he remain faithful to how he has ruled in the past, and may he help restore judicial integrity to a system that is in danger of collapse.