Yesterday was the anniversary of Calvin Coolidge's death in 1933. It passed by most people. In fact, if you were to ask a random one hundred people who Coolidge was, I'm afraid only a very few would be able to give an informed answer.
Calvin Coolidge, president of the United States from 1923-1929, brought character to the forefront of American politics. Vice president under Warren Harding, he had the presidency thrust upon him when Harding died suddenly. Upon first hearing the news, Coolidge and his wife immediately knelt by their bed and prayed. He was then sworn into the office by his own father in his boyhood home in Vermont where he was visiting.
Harding's administration was in the throes of a number of scandals at the time, with the most infamous being Teapot Dome. Coolidge made sure the various investigations went forward and that the guilty were punished. He restored confidence in the government.
His entire tenure in office was a period of prosperity for the nation. Part of the reason for that was his philosophy of limited government and economic liberty. He acted on principle and did his best to keep the federal government under control.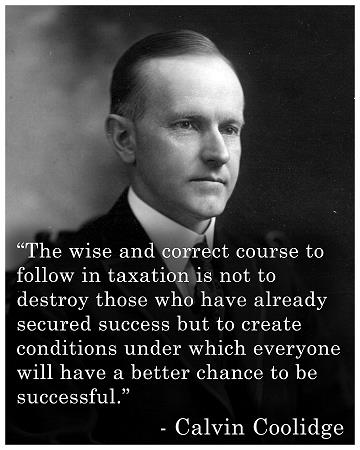 Coolidge won election in his own right in 1924, and since he only completed a year and a half of Harding's term, nearly everyone expected him to run again in 1928 and win without any trouble. Yet Coolidge declined to do so. He explained more fully in his post-presidential memoir why he made that decision, and his explanation reveals the heart of the man.
It is difficult for men in high office to avoid the malady of self-delusion. They are always surrounded by worshipers. They are constantly, and for the most part sincerely, assured of their greatness. They live in an artificial atmosphere of adulation and exultation which sooner or later impairs their judgment. They are in grave danger of becoming careless and arrogant.
If only more politicians had that perspective, we would be in better shape as a nation.
Although Coolidge gained the reputation of being a man of few words, whenever he did speak, he was eloquent.