When I was preparing my paper for the C. S. Lewis Academic Roundtable at last summer's Lewis Foundation conference, I came across a fun quote from Lewis that I hadn't remembered reading before. It fit nicely into the theme of my paper, which touched on the role Christians should play in influencing the culture and politics.
I liked it so much that I used it as the introduction to the paper. It reads as follows:
"Praying for particular things," said I, "always seems to me like advising God how to run the world. Wouldn't it be wiser to assume that He knows best?"

"On the same principle," said he, "I suppose you never ask a man next to you to pass the salt, because God knows best whether you ought to have salt or not. And I suppose you never take an umbrella, because God knows best whether you ought to be wet or dry."

"That's quite different," I protested.

"I don't see why," said he. "The odd thing is that He should let us influence the course of events at all. But since He lets us do it in one way I don't see why He shouldn't let us do it in the other."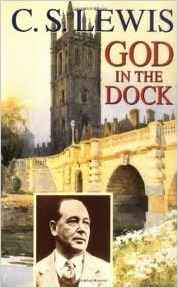 That little "story" has stayed with me ever since and has encouraged me whenever I feel discouraged over the trends I see in the world and my perception of how little influence I have over them.
One never knows how much influence one might have on another. That verse in Galatians 6 comes to mind: "Let us not become weary in doing good, for at the proper time we will reap a harvest if we do not give up [grow weary]."
For those interested in this Lewis quote today, it's called "Scraps" and is found in the essay collection God in the Dock.