I have some book reviews for you today.
I've been expanding my reading of books about C. S. Lewis. Some of my earliest reading of Lewis was his Space Trilogy: Out of the Silent Planet, Perelandra, and That Hideous Strength. I've been aware of David Downing's analysis of these novels, Planets in Peril: A Critical Study of C. S. Lewis's Ransom Trilogy, for quite some time; I finally got around to reading it.
Every Lewis fan has a favorite in this series. Downing does a fine job of interlacing all three of the books, drawing from each of them in every chapter. He uses the thematic approach: Christian vision; elements of classicism and medievalism; portraits of evil; the concept of the spiritual pilgrimage.
While he obviously is deeply appreciative of what Lewis offers in these books, his analysis is exactly that: a critique that doesn't lend itself to hero worship. He points to what he believes are the positives and negatives of the writing. Needless to say, the positives outweigh the negatives.
I've lost count of how many times I've read the trilogy over the years. Downing's book is one of those I will have to re-read as well.
I also was intrigued by another of Downing's books, Looking for the King: An Inklings Novel. How, I wondered, was he going to incorporate real people into the novel? He follows the quest by an American doctoral candidate to find whatever evidence he can of the truth behind the King Arthur legend.
The author accomplishes his goal. He keeps the narrative focused on the American scholar while bringing the Inklings in as valuable aids in his quest. I agree with Marjorie Lamp Mead of the Wade Center in her recommendation for the book:
David Downing's homage to C. S. Lewis, J. R. R. Tolkien, and Charles Williams succeeds masterfully. This is a beguiling and enjoyable read—laced throughout with romance, wry humor, and questions of eternal consequence.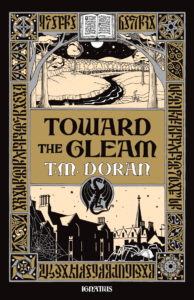 Amazon always attempts to point you to other books similar to the one you are buying. When I purchased Looking for the King, I was intrigued by one of the options, Toward the Gleam by T. M. Doran. I had never heard of this author or his works, but after reading the synopsis, I thought I would try it. I'm glad I did.
Doran does the same thing Downing does, including the Inklings in a novel that centers around a mysterious book that an Oxford professor finds and attempts to translate. It purportedly tells of an ancient civilization that no one knows existed. Is it fact or fiction? Why does having this book put the professor's life in danger?
We are taken into the Bird and Baby pub for conversations with Lewis and Owen Barfield. Other characters that grace the pages are G. K. Chesterton and Winston Churchill. Doran's method of introducing them is rather unique, though. He never gives the full name, only a first name. So you have to be someone "in the know" to recognize them.
The biggest twist, however, is the identity of the main character, which is never explicitly expressed, but as you read, you slowly come to the knowledge of who he is. I won't give it away.
I was so delighted with this novel that I'm going to have to try another Doran book very soon.
One more.
At the recent Lewis conference I attended, I saw another book that I had recently put in my Amazon wish list, so I decided to get it, primarily as what I hoped would be a good read on the plane home. I was not disappointed.
Called: My Journey to C. S. Lewis's House and Back Again by Ryan Pemberton is not the travelogue the title might indicate. Rather, it is a very personal story of struggle in finding God's will in one's life. It's the true story of a young American man who studied at Oxford, hoping to find God's specific calling on his life.
Along the way, Pemberton not only became president of the Oxford C. S. Lewis Society, but actually lived in the Kilns for a year while completing his degree. Although not a novel, it has all the qualities of one as you wonder where the next twist in his life will take him and whether he will ever know for sure to what God is calling him.
Pemberton is a fine writer; he allows you into his life and thinking during his Oxford days—all the doubts, fears, and satisfactions. By the end of the book, you, too, have experienced all those same doubts, fears, and, ultimately, satisfactions.
I recommend Called and now wonder what Pemberton will do if he chooses to write a second book. How will he make it the equal of his first? I wish him well.
So, those are my four recommendations this week. You can be sure when my book, America Discovers C. S. Lewis, comes out in a few weeks, I'll have another one to recommend.