If you are looking for examples of pure evil in our society, look no farther than Planned Parenthood. What could be more evil than killing innocent children in the womb and then selling the body parts for profit? It's not wise to invoke the Hitler comparison too often as it should be used only for the most vile practices. In this case, however, the comparison is appropriate.
So when an undercover camera crew entices Planned Parenthood officials to admit to their horrific practices, and we are given undeniable proof of their depravity, what comes of it? The major news networks do their best to ignore the videos and the organization that carries out the exposé, the Center for Medical Progress, is the one having to pay the legal penalty. That's what has happened in Harris County, Texas, which includes the city of Houston.
The county's investigation of the videos led to no indictments for Planned Parenthood officials; instead, the prosecutors decided to indict those who made the perfidy of Planned Parenthood public.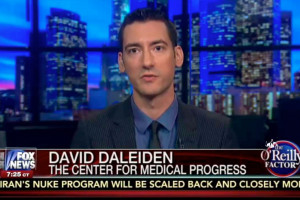 Daniel Daleiden, from the Center for Medical Progress, now faces charges for using a fake driver's license and attempting to solicit the purchase of baby parts.
I understand the legal issue of using a fake driver's license, and perhaps he ought to answer for that, but let's keep some things in perspective here. What is worse, using a fake license to uncover the horrid truth about Planned Parenthood or the horrid truth itself?
And being indicted for soliciting the purchase of body parts? Does anyone really think Daleiden was actually going to do so? Why was he singled out and not the organization that does the selling?
Daleiden says he will not do any kind of plea bargain. He believes he should be exonerated for bringing to light the true nature of Planned Parenthood. I agree. The next investigation needs to be of the Harris County prosecutor's office.
Planned Parenthood is a blight on America. Not only does its flow of federal funding need to be stopped immediately, but steps should be taken to shut down every Planned Parenthood facility in the country. That would be the first step in atoning for the atrocity of abortion that we continue to allow.