From the heart today. Well, everything I write is from the heart, but this one is burning within. I have been doing my best to warn conservatives—and Christian conservatives, in particular—about giving any aid, verbal or otherwise, to the candidacy of Donald Trump. Some of you, I'm sure, are tired of hearing my warnings.
No one has responded to my warnings with anger, I don't believe, yet I'm still astonished by people I certainly love and respect giving room to Trump in the sense that they seem to enjoy his braggadocio and politically incorrect comments.
Yes, we do need someone with courage to speak up. We need those kinds of people in government at all levels. My concern, though, is that we are confusing Trump's self-aggrandizement with Biblical courage.
In my spirit, I'm coming to the place where I believe America is now experiencing its Jeremiah moment. We are at a crossroads in a way we never have been before. The Obama administration has openly advocated the killing of unborn children, has led the way in the destruction of marriage, has done its best to destroy the economy, and has put America in a weakened position around the world.
What is needed at this critical juncture is not a man who brags about how much money he has made, who claims to be smarter than everyone else, and who strikes back at any criticism by calling his critics names: losers, stupid, third-rate journalists, bimbos, etc.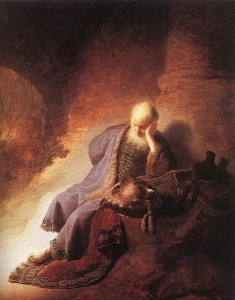 Rather, we need a chorus of Jeremiahs throughout the nation calling people to repentance and humility—the very last things one would associate with Donald Trump.
Jeremiahs are not usually treated well. The Biblical Jeremiah got on people's nerves; they kept telling him to be quiet, don't stir up trouble. Yet he continued on, despite his own inner desire to stop. There was a fire from God in his bones that wouldn't allow him to back off.
Jeremiah's message was dire, but if you look closely, his main theme was that the nation needed to humble itself before God. Only through a humility that led to genuine repentance would Judah have any hope for the future.
That's where America is right now. Our only hope is in a thorough repentance that begins with God's own. Those who call themselves Christians must see clearly now as never before. We can't let ourselves be caught up in a reactionary attitude that gives credence to any politician who makes us feel better because he "fights back."
So I don't write my warnings about Trump out of any kind of spite toward him personally or just because I'm on my own little hobby horse. I'm truly fearful of what a Trump presidency would bring. I fear it would be no better than a Hillary Clinton presidency, and I don't think God will bless either choice.
I will continue to write and express my deepest concerns. I will attempt to do so in a redemptive manner, not merely offering denunciations. But the truth needs to be spoken. Our reception of that truth needs to lead us all into a personal examination of our faith and the kind of response God now requires.
This is our Jeremiah moment. How will we respond?