I've written previously in this blog about the blessing I've received for the coming academic year: a sabbatical to do research and writing. I also promised to provide updates. For the past week, I've been at Wheaton College in Illinois, delving into the papers of the Billy Graham Evangelistic Association (BGEA) and also materials relating to C. S. Lewis. I'll talk about Lewis in tomorrow's post; today, I'll focus on Graham.
As a reminder, one of my projects during this sabbatical is to examine the relationship of presidents with their spiritual advisers. An obvious starting place for that is the life and ministry of Billy Graham, who has known each president from Dwight Eisenhower to George W. Bush. Wheaton is the repository for the records of the BGEA. Those records are housed in a magnificent building called the Billy Graham Center.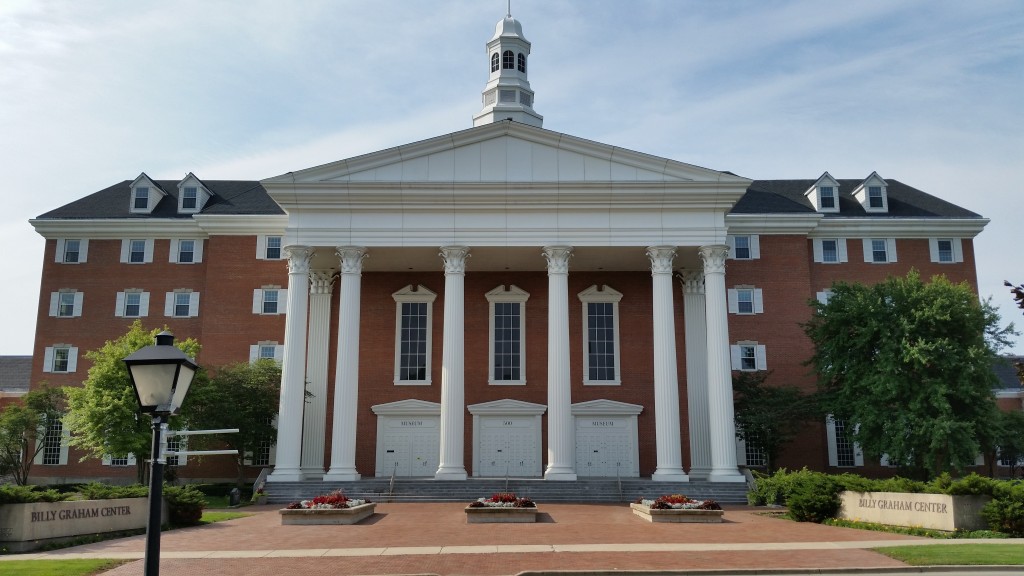 I want to offer my sincere thanks for all the help I received while burrowing through the mass of material for more than three days. The staff members are excellent. Their spirit of service is greatly appreciated.
The Center has a very interesting museum depicting the history of evangelism and how America fits into the overall picture of the spreading of the Gospel. It also has some valuable artifacts, such as a copy of the first Bible printed in America during the American Revolution:
I was also gratified to see a prominent display on the significant contribution of Charles Finney to evangelism in the nineteenth century:
Naturally, the last half of the museum concentrated on the ministry of Billy Graham, but the spirit of it was excellent, as the focal point was not really Graham himself, but the message he preached and the lives that were changed. The Gospel message was central, as can be shown by this beautiful crystal display of the crucifixion with the poignant Scriptural message underneath:
My attempt to capture the solemnity and grandeur of the room with the crystal display doesn't do it justice. There is a sense of awe as you enter that room. The sacrifice of Christ on the cross goes directly to the heart. If you are ever in Wheaton, you must visit this museum and come away inspired by what the Lord has accomplished through so many who have been faithful to His calling.