I received a tremendous blessing recently: Southeastern University awarded me a sabbatical for the upcoming academic year. Once the current spring semester ends in May, I will have until the beginning of the fall semester in August 2015 to research and write. In tandem with a colleague in the college of religion, I will have the opportunity to delve into the subject of spiritual advisers to presidents. Our goal is to begin with a couple of articles on the topic, then, hopefully, into the authorship of a series of books, each one dealing with a specific president.
My task, as the historian, is to gather as much evidence as possible on those who had the ear of presidents and offered them spiritual advice. We will try to answer questions such as "How much influence did these individuals have on the presidents?" "Were they primarily pastoral in their dealings or did they in any way interact on policy issues?" "What is the proper role of a spiritual adviser?" "What are the pitfalls of being so close to political power?" "Did these spiritual advisers remain true to their calling or become too political?" "Were they respected advisers or merely being used by politicians?"
We can't do all presidents, at least not for the moment. We've decided to concentrate on presidents after WWII. That seems a propitious place to begin for a couple of reasons: the public is more familiar with them; we have one huge example of a spiritual adviser during this era who touched the lives of every president—Billy Graham.
The research cannot all be done via books, articles, and internet searches. Personal papers are essential to get to the heart of the matter; therefore, I will need to travel to a number of presidential libraries. My favorite, naturally, will be the Reagan Library in Simi Valley, California. I've been there twice before for research and rejoice at the opportunity to return. I'm also going to look into the possibility of visiting the Reagan Ranch while I'm out that way. I know this is supposed to be academic research, but I trust I'll be forgiven for actually enjoying what I do.
While I'm in California, I'll also need to go to the Nixon Library, which is not too far from Reagan's. Other presidential libraries on the itinerary for the year are Eisenhower's in Kansas and three in Texas: Lyndon Johnson's, George H. W. Bush's and George W. Bush's. We've chosen to start with those particular presidents because Graham was closest to them.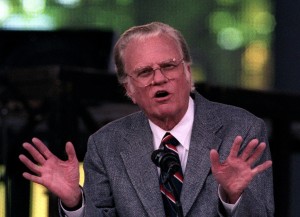 It would be difficult to exaggerate the role Billy Graham played in the lives of those presidents. As I've begun my reading on his ministry and influence, I've been amazed at the access he had to them. So I'll also need to examine Graham's personal papers, which are housed at Wheaton College in Illinois. My colleague and I also entertain the hope of interviewing some of Graham's children and associates in North Carolina.
This may sound like books just on Billy Graham's relationship to the various presidents, but it won't be. He's merely a fine starting point. There are other spiritual advisers who will need our close attention as well. By the time we're finished, we hope to have a well-rounded portrait for each of the presidents listed above. If all goes well with those, who knows, perhaps we can continue the series with others. I can overcome my own personal feelings about such men as Bill Clinton and John F. Kennedy to continue this valuable research with them also. Personally, I'd eventually like to delve further back and deal with Abraham Lincoln and others who have evidence of Christian faith in their lives.
The next step is to get the funding to accomplish all the travel necessary to complete the research. We are in the process of applying for a grant, having identified a number of private foundations that typically fund research of this type. Prayer for success on this front is always appreciated. I pledge to keep regular readers up to date with progress reports from time to time.
How do I adequately express my excitement over the prospect of being able to devote my life over the next year to this project? Well, maybe I've already done that with this blog today. Thanks be to God for His many blessings.