I've made pretty clear in my last two posts that I don't think race had anything to do with the events on the night Trayvon Martin was killed. Yet we are now mired once again in racial tension over the verdict in that trial. America doesn't need this. We're already a severely divided nation; this only increases that divide.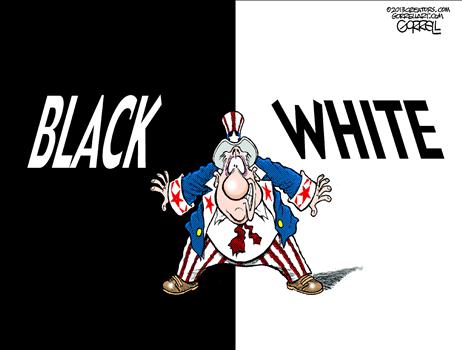 Unfortunately, there are some who want to foment unrest over the trial's outcome. One of the premier agitators is the Rev. Al Sharpton, who is calling for massive protests in one hundred cities. He's also calling for a boycott of Florida, as if all of Florida is responsible for what happened. Does he not realize it was Florida's government that went forward with the Zimmerman prosecution? He also insists this was a racial thing, despite all the evidence to the contrary—or more correctly, the complete absence of any evidence that points to racism.
I've watched the Rev. Al for many years. He has been responsible for foisting fraud upon the American people—anyone remember Tawana Brawley? Look it up. His inflammatory rhetoric also incited a mob to riot, leading to one death in the Jewish community in New York City. Now here he is again. Frankly, I don't mind if Al Sharpton decides to boycott my state of Florida. I would rather he not grace us with his presence.
What has disturbed me most about Sharpton is his title: Rev. I find nothing in his spirit that is consistent with the Holy Spirit. Many use the name of Christian, but their actions belie their words.
How should a genuine Christian—one who seeks to honor the Lord in everything he/she does—respond to what has transpired in the George Zimmerman-Trayvon Martin incident?
First, we need to recognize that God has created only one race, and it's called "human." Within that one race is diversity. God likes diversity. He also wants us to judge one another, not on outward features such as skin color, but on inward character. Isn't that what Martin Luther King said in his "I Have a Dream" speech? This means that all prejudice based on what our society deems as "race," must be banished from a Christian's heart.
Second, we all live under, and are responsible to, God's eternal law. He is always just in his judgments, so we, as His hands, feet, and voice on this earth, must also be just. Any white person who names the name of Christ, yet assumed Zimmerman's innocence before having any evidence, would be violating God's standards. Conversely, any black person who claims a Christian testimony, yet assumed Martin was innocent prior to hearing both sides of the story, would also be in violation of God's justice.
Third, anyone who furthers attitudes of bitterness and resentment—whether white, black, or any shade in between—does not have God's heart. We are called to do all we can to bring reconciliation, which requires repentance for any wrong attitude. No one can incite others to violence and have any credibility as a Christian.
What we have before us now is an opportunity to show the world that Christians of all colors can unite as one in Christ. I'm a member of a church that is multiracial; everyone is welcome regardless of ethnicity. Why? Because we recognize that we are all sons and daughters of the Most High. We will spend an eternity together, so we might as well get used to one another now. I teach classes comprised of white, black, Hispanic, and Asian students. While I know we all have different backgrounds and cultures, I also know that for those who are true Christians, there is no real divide.
Now is the time for those who have taken up the Cross and committed themselves to discipleship to stand out and be noticed for their love and unity. That's God's call to us in these troubled times. We need to be faithful to that call.