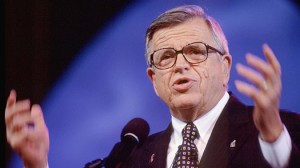 When Chuck Colson broke free from his earthly body this past Saturday, the evangelical world lost one of its foremost spokesmen. He didn't start out as a Christian leader; in fact, he was considered a political hatchet man and became embroiled in the Watergate controversy, over which he went to prison. But his life changed dramatically.
I remember the events of Watergate quite clearly. Just out of college, I followed the fallout from the foolish break-in at the Democrat headquarters that occurred during the 1972 presidential campaign. Colson was a White House operative under Nixon. He in no way participated in the break-in plans, but did get involved with the attempted coverup afterwards. As a result, he was found guilty of obstruction of justice and served seven months in a federal prison for his actions.
Yet by the time he went to prison, he already was a different man. The ordeal made him rethink his entire life, and where ultimate meaning really resides. He began to delve into Scripture and into the works of C.S. Lewis. The combination convinced him to turn his life over to the Lord. This was particularly meaningful to me at the time since I was reading Lewis rather heavily myself; he was fast becoming my favorite author. Hearing how Lewis's works had helped bring Colson to salvation, I naturally wanted to know more about what had transpired.
I didn't have long to wait, as Colson's spiritual confessions were in print shortly after his release. The book's title, Born Again, was not inventive, but it certainly was descriptive. It was the beginning of a witness to the truth of the Gospel that Colson would maintain for the rest of his days. It made an impact on me. As I sit here writing, I see my copy of the book in my bookcase across the room, a book I've now had in my library for thirty-six years.
The cynics watched and waited. They fully expected this was a foxhole conversion that wouldn't hold. Colson surprised them. He started a ministry called Prison Fellowship, which ministered to the incarcerated. It continues unabated today. If you've ever participated in the Angel Tree program at Christmas, you've been touched by the life of Chuck Colson.
More than that, he sought to educate Christians into a more comprehensive, consistent Biblical worldview—another key component of his ministry, separate from the prison ministry but just as significant. In his later years, he devoted the largest share of his time to speaking out on how to apply Biblical thinking to our culture and politics.
Although his family and friends will surely miss him, everyone who knew him has the deep assurance that he now has a greater reason to rejoice than those who have been left behind. I hope to meet him someday. Death is not the end for those who name the name of Christ. As the apostle Paul explained,
For this perishable must put on the imperishable, and this mortal must put on immortality. But when this perishable will have put on the imperishable, and this mortal will have put on immortality, then will come about the saying that is written, "Death is swallowed up in victory. O death, where is your victory? O death, where is your sting?"
On Saturday, death lost again.