Frank Peretti is back. Nearly twenty years ago, I picked up my first Peretti book, This Present Darkness, and marveled at his storytelling prowess. After that, I grabbed every Peretti book that came out. Some were more graphic than others in their depiction of sin, death, and the misery men bring upon themselves, but they all were faithful to the message that sin kills, both physically and spiritually. But Peretti didn't stop there—he always contrasted the consequences of sin with the redemption available through Christ.
Peretti has been notably absent for some time now. I went into the bookstore last week to pick up a certain novel I had heard about, only to discover it wasn't there. As I perused the shelves, I found, to my delight, that a new Frank Peretti book is now available.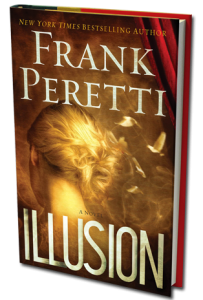 As I read the description of Illusion on the front flap, it drew me in immediately. It's a fine mixture of science fiction, action, and romance, all within a Christian context. It doesn't preach, but it does deliver a sobering message about those who try to play God, the potential of a marriage based on Christian commitment, and how to deal with the loss of a loved one. I refuse to give away the plot, but suffice to say that the plot, along with the character development of the protagonists, held sway in my mind over the four days it took to finish it.
Perhaps one of the reasons I found it so fascinating is that the main characters were both born in 1951—an auspicious year, to be sure, since I also was born then—and what they knew, I knew also. All the cultural connections were real to me, as was the poignant fact of the characters reaching that landmark age of sixty—not quite decrepit yet, but identifying with the man who was wondering why it no longer was as easy as it used to be to run, climb the stairs, or perform all the other daily duties in life.
Yet it's not just a book for "old" people like me. It speaks to every generation.
If you've never read Frank Peretti, this is your opportunity. Try him, you may like him. If you're like me, a Peretti fan from previous years, you should welcome this new addition to his collected works. It will also be a welcome addition to your library.