The university where I teach, Southeastern, each year holds a Forum where leaders in various fields—Christian ministry, business, and politics—come and share their approach to leadership. It attracts well-known leaders, and is quickly becoming a heralded annual event. I attended most of the sessions last week and came away inspired by the stories and principles the speakers communicated.
One of this year's speakers was Franklin Graham, son of the famous evangelist. For those who don't know, Graham not only oversees his father's large ministry, but also directs another ministry called Samaritan's Purse, which sends relief supplies to every corner of the world, demonstrating how the Christian message of personal salvation also connects with aiding those in need everywhere. As Christians help people with their material needs, this creates an openness on their part to hear the truths of the gospel of Christ.
For some, Graham's presentation may have seemed a little odd for a leadership conference, since he spent quite a bit of it laying out the basics of the gospel message. Yet I truly appreciated what he said as a reminder to everyone: this is the most important truth we possess. He also spoke forcefully against sin in our culture and issued a call for the church to resist it. Of all the speakers, he had the clearest warning that while we are supposed to engage the culture, we are not to be overcome by it or dilute the truths God has commissioned us to share with others. It was a challenge that I'm sure some needed to hear.
The biggest names at the conference appeared at the end of the final day when George W. Bush and Condoleezza Rice took the stage. Rice spoke first, and with abundant grace, spoke of the special task of America to help others in the world embrace liberty. I had never heard her speak in person before; her spirit was so gracious that her words seemed to pierce the heart as well as inform the mind. Her experience as both National Security Advisor and as Secretary of State endowed her comments with credibility.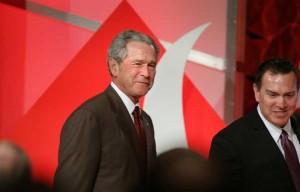 The former president took his turn shortly afterward. He gave no formal speech, but instead sat down with the Southeastern president for a give-and-take question-and-answer session. This was Bush's second visit to Southeastern; when he came to last year's Forum, it was his first public appearance since leaving office. This year he was quite at ease and very humorous in his commentary. The audience clearly appreciated the interview.
The highlight, though, was when Rice then joined him on stage and there was a more extended give-and-take. I must admit I listened even more closely to this session, as I was the person who devised the questions. Along with two of my colleagues, we were honored to be asked to develop questions for all the Bush-Rice exchanges. This was also another "first" of sorts, as the two had not appeared together since the end of the Bush presidency.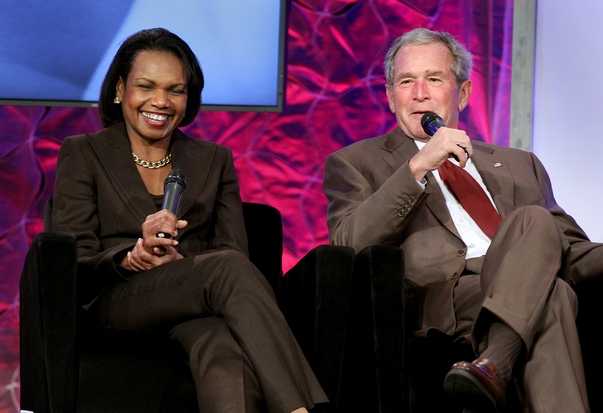 I know there are some reading this who have rather sour views of the former president, and knowing where I stand on the issues may wonder why I would enjoy this time so much. It's true that I have disagreements with some of Bush's decisions. When I reviewed his book a couple months ago, I openly discussed those disagreements. However, I experienced the same feeling after reading his book and listening to him in person: this is a man who is genuine and sincere, and who sought to do his best. I can respect him as a person, be grateful that under his administration another major attack on our nation didn't occur, and honor him because he held the office of the president in high regard.
It was a privilege to be present for this Forum. God used it in my life, and I encourage others to participate next year.