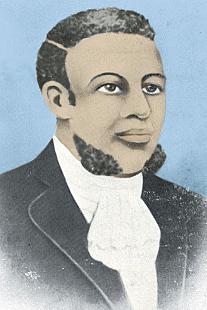 LOTT CARY was born a slave in Virginia and died a missionary in Liberia. His birth took place around 1780, about thirty miles south of Richmond, Virginia. Although his father was a respected Baptist, Cary was a profane alcoholic. However, in 1807 his ears were opened to the gospel. He converted to Christianity and joined a Baptist church. A sermon he heard on John 3 left him eager to know more about Nicodemus. As a result, he learned to read.
Cary became an efficient and faithful worker, able to handle clerical duties at the tobacco firm where his master hired him out. He was able to study Scripture as well. Merchants frequently tipped him and he sold leftover tobacco to build his savings. Consequently, he was able to purchase freedom for himself and his children. After gaining his freedom, Cary preached to slaves around Richmond. Whites who also attended his sermons said they were among the most moving they ever heard.
In 1813 an African-American preacher named William Crane settled in Richmond. Crane and Cary organized a society for African missions. This was the first world mission founded by African Americans. Eventually the society chose Lott Cary and Colin Teague, both free blacks, as its first missionaries. In commissioning him for the task, his board urged him "to dwell much on the doctrine of the cross, a doctrine which has been found in every age of the church of Christ the power of God."
The tobacco firm offered Cary a large raise to stay, but Cary turned it down. Selling his farm to support himself, he sailed for Africa and reached Monrovia, Liberia, in 1822. His labors included preaching several times a week, instructing native children and settlers, and operating a charity school with his own money. He also fended off armed attacks by local Africans. Unfortunately, Cary got sucked into politics. Free blacks in Liberia were unhappy with colonial agent Jehudi Ashmun's redistribution of their land and Cary headed their resistance. The United States investigated and stood by Ashmun, who forbade Cary to preach any more until he apologized.
By 1824, Cary and Ashmun had settled their differences and the colony granted its settlers full participation in the government. From then on, Ashmun spoke of Cary with high praise as a selfless man. Cary became vice-agent with enormous responsibilities. He doctored the settlers with remedies he had learned while he himself was suffering from tropical diseases. He also experimented successfully with raising rice and coffee, which became staples of the Liberian economy.
When Ashmun returned to America, he left Liberia in Cary's hands and recommended him as permanent agent for the colony. However, Cary was mortally wounded before anything came of it. On 8 November 1828, he was helping prepare cartridges for the protection of the settlers when someone overturned a candle. All the ammunition exploded. Six people died on the 9th. Cary and another victim of the accident lingered until 10 November.

Cary's story came to me from the Christian History Institute's daily e-mail on November 10. I wanted to share it because I was so impressed with his character and Christian commitment. I'm glad to add to my knowledge of another strong African American Christian during this time period in American history. I hope you appreciate it as well.