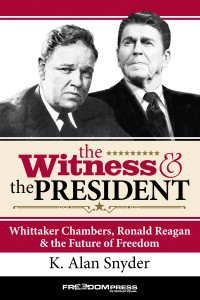 What led me to write my new book The Witness and the President: Whittaker Chambers, Ronald Reagan, and the Future of Freedom? Here's the background.
It was not until after my graduation from college in 1973 that I began to pay serious attention to politics. Of course, it was hard not to know what was going on that year–the Watergate controversy overshadowed all political discussion. Over the next year and a half, I watched as the Nixon presidency collapsed.
The 1976 presidential election forced me to consider the two candidates on a deeper level than I had previously. Although my personal political philosophy was not fully developed, I was socially conservative due to my evangelical Christian faith. When the Democratic candidate, Jimmy Carter, claimed to be a born-again Christian, I read his autobiography and tried to sort through what he really believed, both religiously and politically. The result of that research was a reasoned vote for Gerald Ford.
Ford, though, had not been my first choice for the Republican nomination. I had followed the Reagan challenge to Ford closely and was disappointed when Reagan fell short at the convention. By 1980, I was solidly in the Reagan camp, rejoicing over his stunning electoral victory over an incumbent president.
I had returned to college by that time, having started a master's degree in history, and can recall the reaction of one of my professors the morning after the election. He came into the classroom with the burden of the world seemingly on his shoulders. Clearly, he was disturbed. He removed all doubt as to the source of that disturbance when he announced to the class that he could scarcely bring himself to realize that "that cowboy has been elected president." His perspective was not unique; it was dominant on that campus–and most others.
A few months into the Reagan presidency, I moved to the Washington, D.C., area to continue my education, pursuing a doctorate in history at The American University. I remained in the D.C. area throughout the entire Reagan administration, leaving for my first full-time college-level teaching position shortly after George H. W. Bush took over the Oval Office.
Those eight years in D.C. gave me a political education, even though I never took a job with the administration. Rather, I wrote and researched for a number of organizations, both inside the government and outside, as a freelancer. It was a valuable time for grappling with how my faith formed the basis for my political philosophy.
In the midst of this "grappling" I heard about a book many considered seminal to the entire conservative movement as represented in the Reagan presidency. When I discovered that Reagan himself had read the book and credited it with providing his understanding of the philosophy and workings of the communist mind, I decided it was time to evaluate it myself. The book was Witness. The author was Whittaker Chambers.
I did not expect what I found. I expected a treatise on communism and how wrong it was. What I received was far more. Chambers had not written a political tract; instead, he wrote painfully of the weaknesses in his own life while detailing the tragic consequences of a philosophy that he believed dethroned God.
It was not just a story. It was not simply an autobiography. It was a personal spiritual reflection and confession. One reading was not enough, even though it was 799 pages. I had to go through it again to see what I might have missed the first time. I believed the work to be so significant that later I developed an entire college course around the book and its author.
My new book adheres to all the goals of a scholarly work. My research is as meticulous as possible, and documentation for every quotation is provided. While I have salient points of agreement philosophically with both of my subjects, I also recognize their weaknesses and inconsistencies, and those will be noted.
The goal is a reasoned historical analysis. But one can be scholarly and not have to succumb either to cynicism in the analysis or to dryness in writing style. If the reader who finishes this book can be glad that he had the opportunity to read it, and that it furthered his understanding of these two individuals, I can be satisfied with that.
If you would like to delve into this further, just click on the ad on the right side of my blog and go straight to the Amazon page. I'm hoping you will find the foray into the worlds of Chambers and Reagan to be worthwhile.